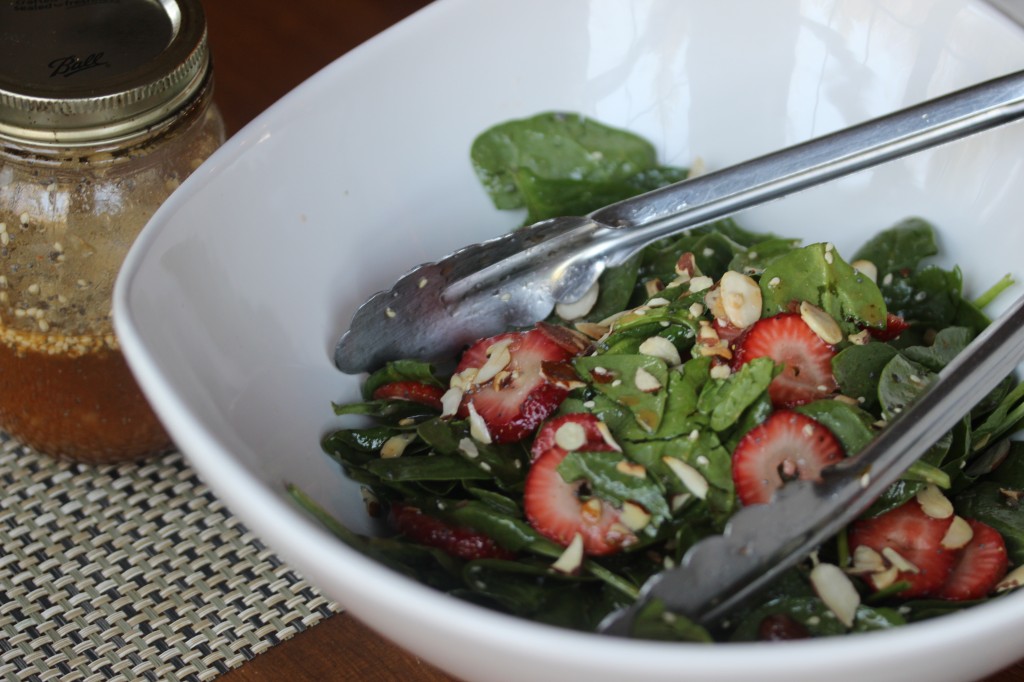 One of my all time favorite salads.  I make this as soon as I get spring fever and there are decent strawberries out.  It's best in June when Wilson's has their own strawberries out but it still tastes damn good in April when I am done with winter stews and looking for fresh spring tastes!
The Poppy seed dressing will stay in the refrigerator for up to 2 weeks, so make it a few times

Strawberry Spinach Salad
Ingredients
½ cup white sugar
2 tablespoons sesame seeds
1 tablespoon poppy seeds
1-1/2 teaspoons minced onion
¼ teaspoon Worcestershire sauce
¼ teaspoon paprika
½ cup canola oil
¼ cup cider vinegar
1 bag (10 ounces) fresh baby spinach
¼ cup almonds, blanched and slivered or roasted
1 pint strawberries, sliced thin
Instructions
Place sugar thru cider vinegar in a mason jar. Cover tightly and shake well. Season to taste with salt & pepper. Let chill at least 1 hour before serving so flavors meld together. Can be stored in the refrigerator for up to 2 weeks.
In a large serving bowl, add spinach, strawberries and almonds. Add about ⅓ of the dressing. Mix well and add a little more if needed. Do not overdress.