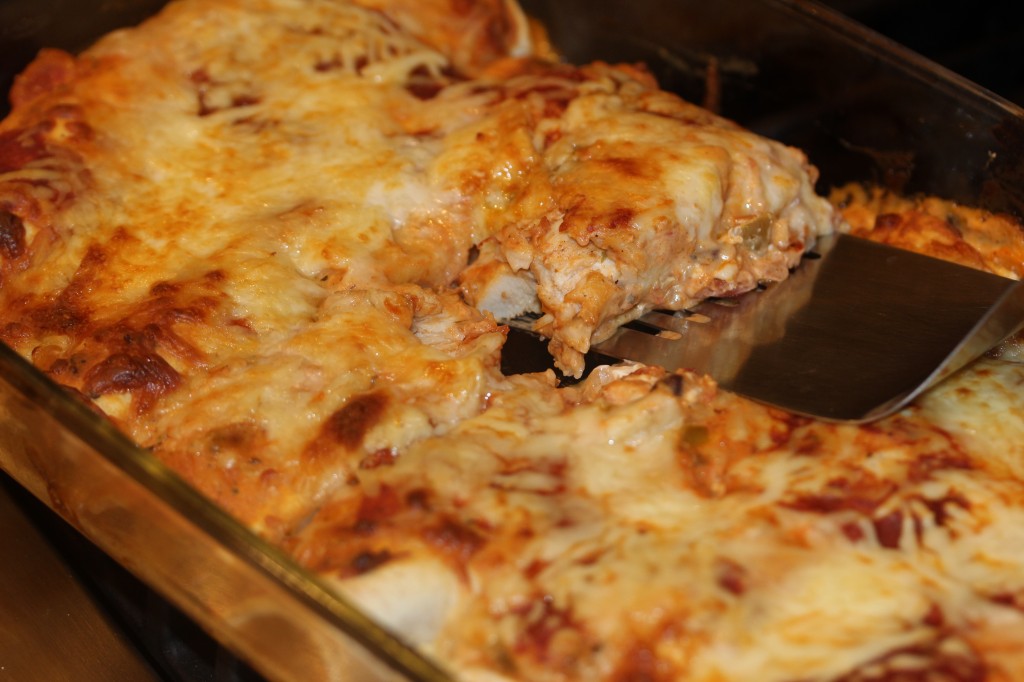 This recipe is an oldie but a goodie.  It is super easy to make and the sauce tastes really rich and creamy but it's still light from just using low-fat cream cheese.   I will make this the day ahead when I know it will be a busy day and just pop it in the oven for a quick dinner.  Add a salad and you are good to go.  The leftovers are great too (if you have any)

Chicken Enchiladas
Prep time:
Cook time:
Total time:
Ingredients
3 Boneless Chicken Breast
6 Fajita Size Flour Tortillas
1 Jar Salsa
8 Oz. Low-fat cream cheese
8 Oz. Shredded Cheddar or Jack
½ Onion, chopped
3 Tbsp Cajun seasoning (I use Emeril's Essence)
2 Tbsp Olive Oil
1 Cup Prepared Taco Sauce
Instructions
Spray a pyrex pan.
Heat the oven to 350.
Slice the chicken into chicken tender-like slices.
In a non-stick pan, heat the olive oil. Add the chicken to the pan. Season the chicken with the Cajun Seasoning. Cook chicken on both sides for 8 minutes.
Remove Chicken from pan. Add onion to pan, season with Salt & Pepper and cook for 5 minutes.
Add salsa and cream cheese to pan, stir well until cream cheese melts into salsa and creates a sauce.
Add chicken back to pan.
Taking one tortilla at a time, add chicken and sauce and roll the tortilla up burrito style. Place enchilada on prepared pan and continue until all are complete.
Pour remaining sauce on top of enchiladas.
Drizzle the taco sauce on top of enchiladas.
Add shredded cheese to the top of the enchiladas.
Bake for 20 minutes until heated through.
Note: Can be made ahead. If so, cover enchiladas with foil. When baking, bring to room temperature and cook for 30 minutes until enchiladas are cooked through and bubbly.