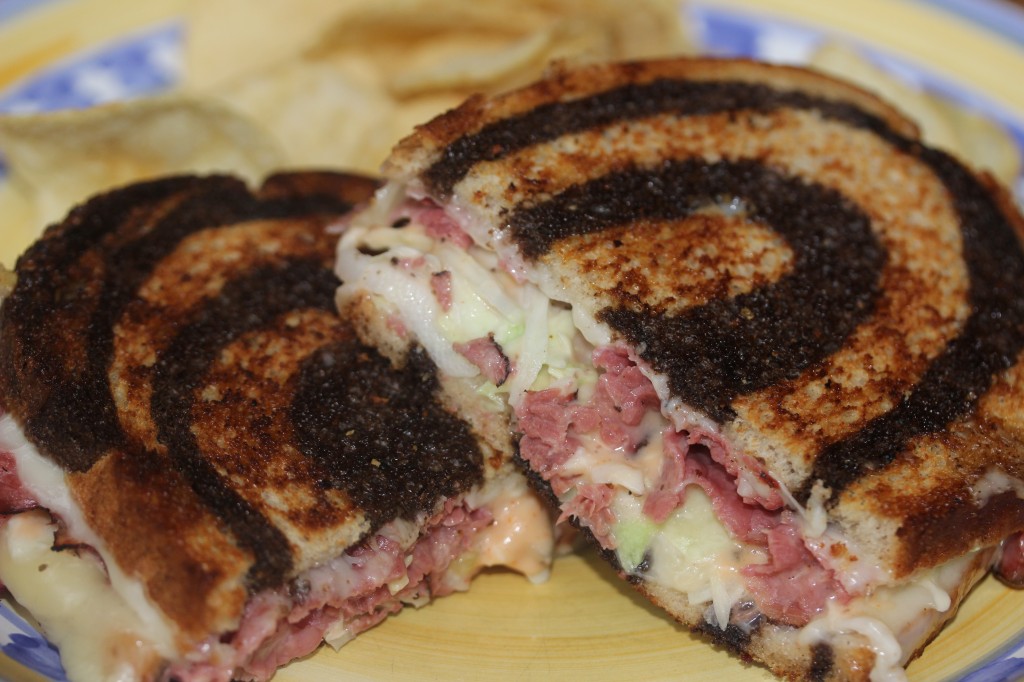 I like to have theme nights for food and I recently decided that Friday nights were going to be "Sandwich" night for a while.  It pushes me to try new things and it's fun.  Ok, I get my idea of fun may not be yours LOL.
So last Friday I made the "Rachel" which is a play on the Reuben but with pastrami.  I hate sauerkraut so Cole slaw stood in.  This is a great fancy grilled cheese.  The salty pastrami with the slightly sweet Russian dressing, crunchy slaw and melted cheese work in harmony!

Rachel Pastrami Sandwich
Prep time:
Cook time:
Total time:
Ingredients
½ Pound Pastrami
4 Slices of Swiss Cheese
8 Slices of Rye, pumpernickel or Deli Swirl Bread
4 Tbsp Mayo
2 Tbsp Ketchup
1 Tbsp Dijon
1 Tsp Ground Mustard
1 Tsp Celery Seed
2 Tbsp Cider Vinegar
1 Tbsp Sugar
2 Tbsp Finely chopped dill pickle
2 Cups sliced cabbage
Butter
Instructions
Make the russian dressing: In a bowl, put 2 Tbsp Mayo, 2 Tbsp Ketchup, 1 Tbsp Dijo, and the pickles. Mix well.
Make the slaw: In a bowl add 2 Tbsp mayo, cider vinegar, celery seed, ground mustard and sugar. Season to taste with salt & pepper. Add the cabbage and mix well. Let the slaw sit for at least 15 minutes so that the cabbage can soak up the flavors.
Heat a nonstick pan. Add the pastrami to the pan and cook for 1-2 minutes until heated through. Remove pastrami.
Add enough butter to lightly coat the bottom of the pan. Add 4 pieces of bread. Put a half slice of cheese on each slice. Add ¼ of the pastrami, add a little russian dressing, then a layer of slaw, then the cheese, then the other slice of bread. Cook on low until the bottom browns. Carefully flip sandwiches over and cover the pan so that the cheese will fully melt.
Remove and let rest for 1 minute before slicing.