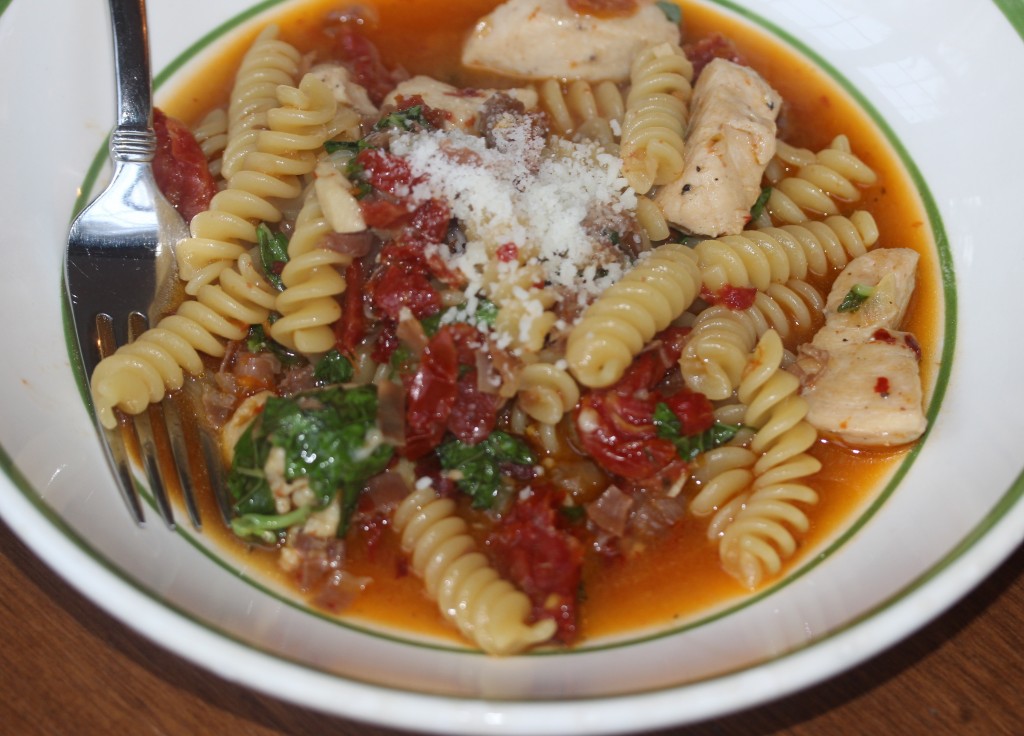 I have a secret……..I have a new love in my life….De Cecco pasta.  Any kind.  OMG.  Yes, it's that good.  I tried it last week for the first time, spaghetti.  It was life changing.  Serious.  If you had told me before a brand of dried pasta could totally make the difference I would believe you..to a point.  However, this De Cecco cooks absolutely perfect, the texture is amazing.  It is imported from Italy and just amazing.  I used to be a Barilla fan, but no more, De Cecco all the way for me now!!
This is a great recipe, if you like sun dried tomatoes, I highly encourage you to make this!

Fusilli with sun-dried Tomatoes & Chicken
Prep time:
Cook time:
Total time:
Ingredients
3 boneless Chicken Breast, cut into bite size chunks
¼ Cup Olive Oil
2 Tbsp Chopped Shallots
1 Tbsp Chopped Garlic
1 Tsp Crushed Red Pepper
5 oz. sun-dried tomatoes
1 Cup Chicken Broth
½ Cup White Wine
½ Cup Basil chiffonade
Grated Romano or Parmesan for serving
1 Pound Fusilli preferably De Cecco
Instructions
Bring large pot of water to boil.
Heat saute pan, add olive oil. Add chicken and season with salt & pepper. Cook chicken for 8 minutes. Remove chicken and keep warm.
Cook pasta 1 minute less than directions (it will finish cooking with the sauce). Reserve ½ cup pasta water.
Add shallots and garlic to pan. Cook for 1 minute.
Add sun-dried tomatoes and 1 Tbsp of the sun-dried tomato oil to pan. Stir well. Add wine, chicken broth and red pepper to pan. Simmer for 6 minutes until sauce is reduced. Add chicken back to pan with the reserved pasta water. Taste for seasoning.
Add the fusilli to the pan. Stir well to coat and cook for 1 more minute until fusilli is al dente. Add basil to pan. Taste again for seasoning and serve with grated cheese.