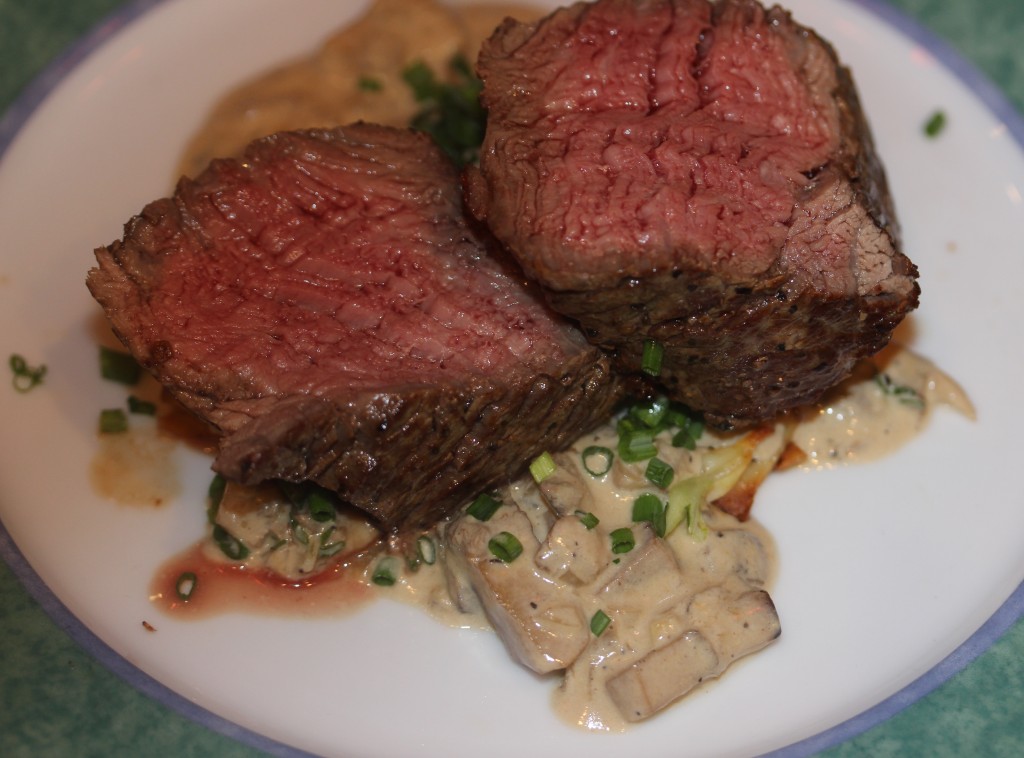 First, I know I haven't posted for 2 weeks.  In my defense, I have been busy and last week I was on vacation, so I wasn't cooking that much and I was certainly trying to stay away from my laptop.
I'm back!  Still busy (sitting at my desk waiting for an important work document to arrive) but figured I could squeeze in a few minutes to post the absolutely freaking amazing delicious mushroom Brandy Sauce I made Sunday with Filet.  Whenever we go on vacation, I am dying to get right back into my kitchen when we get back.  Usually I am inspired by something amazing I had on vacation, but no I woke up Sunday and knew I just had to have Filet for Sunday dinner.  Probably because I had a lot of fish on vacation.  Anyway, it's 4:16 and as I look at this picture of the Filet, I am getting really hungry.  The sauce was so good, but I know I already said that!  I will say the sauce is supposed to be for four people but Bill and I pretty much finished it ourselves, so if you are making this for 4 sauce lovers…………double it!

Filet Mignon with Brandy Mushroom Sauce
Prep time:
Cook time:
Total time:
Ingredients
4 Filet Mignon, 6-8oz. each, as thick as possible
Salt & Pepper
Canola Oil
1 Cup Mushrooms, sliced (your favorite kind)
½ Cup Brandy
½ Cup Beef Broth
½ Cup Light Cream or Half/Half
2 Tbsp. Shallots
2 Tbsp. Fresh Thyme
1 Tbsp. Chopped Chives
Instructions
Preheat oven to 350.
Bring filet to room temperature at least 30 minutes before cooking. Season liberally with kosher salt & fresh ground pepper.
In a heavy skillet, heat the skillet until very hot and coat the bottom with canola oil, 1-2 Tbsp.
Sear the steaks for 8 minutes total. If you have a really thick one, you will want to sear it on all 6 sides. I set the timer for 8 minutes and flip every 90 seconds or so. After 8 minutes, remove the steaks, place them on a cookie sheet and finish in the oven. For medium rare, remove them when they are 120-125 degrees, they will continue to cook as they rest. This should take 5-10 minutes depending on your oven and the size of each steak. Tent steaks loosely with foil to rest.
Meanwhile, add the mushrooms and shallots to the pan with the delicious steak juices in it. Season with S&P. Add the thyme. After 5 minutes, add the brandy. Stand back as it may ignite. Reduce the brandy for 1 minute. Add the beef broth and reduce for 3 minutes. Add the cream and reduce for 2-3 minutes. Taste for seasoning.
To serve, I like to slice the filet's in half and present them that way. Put the sauce on the bottom, then the steak, then garnish with the chives.