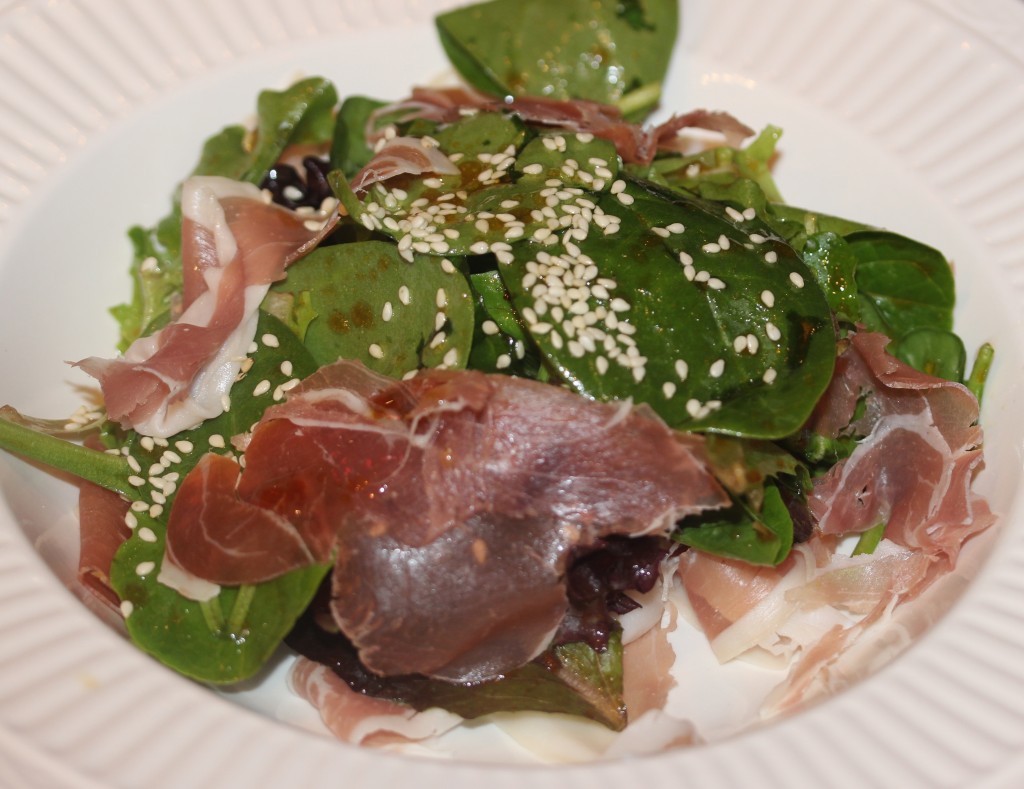 This is Bill's all time favorite salad.  I made it for him when we first started dating.  I used to make it all the time and then frankly, I forgot about it.  When planning our Valentine's menu, I was trying to think of a light salad to have and remembered this.  Let's say it was well received by my Valentine

The salty prosciutto and dressing goes really well with the lettuces.  Make sure you lightly dress the salad, a little of this dressing goes a long way!

Salad with Soy Dressing & prosciutto
Ingredients
2 Tbsp. Soy Sauce
4 Tbsp. Canola Oil
1½ Tbsp. Sugar
½ Tsp. Crushed Red Pepper
1 Clove of Garlic chopped fine
Spring Mix
6 Super Thin Slices of Imported prosciutto
Sesame Seeds for Garnish
Instructions
In a small bowl, combine the soy sauce, sugar, red pepper and garlic. Mix well. Slowly add the canola oil and mix well until dressing comes together. Season with Salt & Pepper.
Mix a small amount of the dressing with the spring mix in a large bowl. Be careful not to overdress. Add a little dressing at time until the lettuce is very lightly coated. This dressing is strong and a little goes a long way.
Place 2 slices of prosciutto on each plate, then pile with the salad, then sprinkle some sesame seeds on top and finish with the last piece of prosciutto on top.