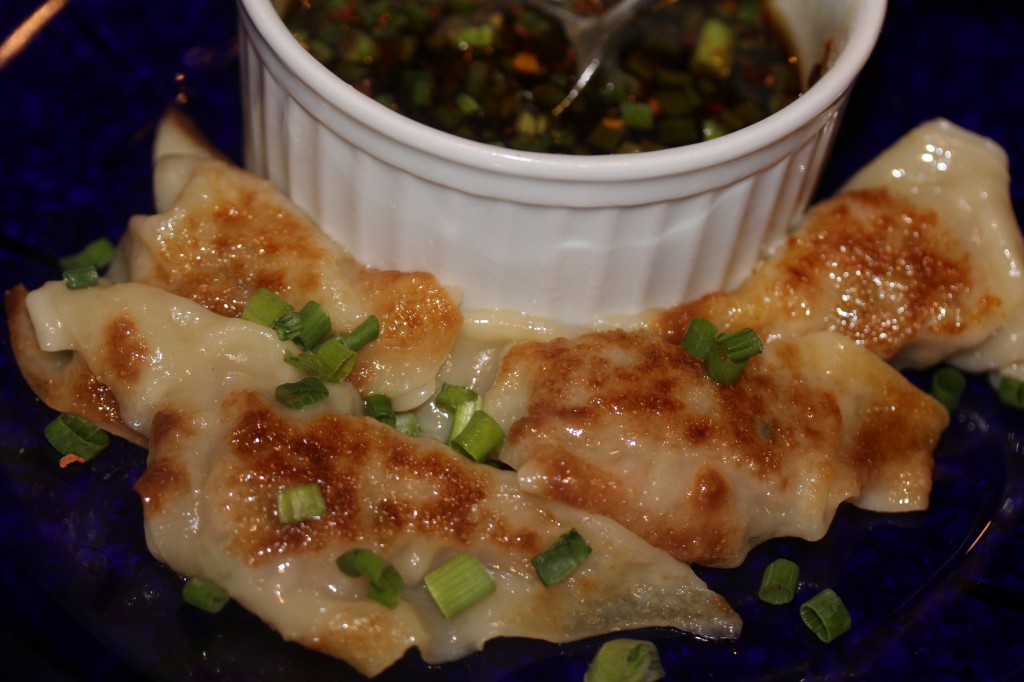 These are crazy good.  Make for a great appetizer or a light dinner if you serve with an asian inspired salad on the side.  That's all I have to say about that. 

Potstickers
Author:
Adapted from Martha Stewart
Prep time:
Cook time:
Total time:
Ingredients
1 Tbsp. Sesame Oil
1 Tsp. Fresh ginger, minced
1 Tsp. 5 Spice Powder
2 Oz. Fresh Shitake mushrooms, chopped
1 Medium Carrot, shredded
4 Scallions, chopped
1 Tbsp. Sherry
1 Tbsp. Soy Sauce
8 Oz. Ground Pork
Package of Potsticker/Wonton wrappers
3 Tbsp. Canola Oil
Instructions
Heat a saute pan and add the sesame oil. Add the ginger for 1 minute. Add the 5 spice powder.
Add the mushrooms, carrot, scallions, salt and pepper and cook for 3 minutes.
Add the sherry and soy sauce. Mix well and put mixture into a mixing bowl, cool for 30 minutes.
Add the pork to the mixing bowl and stir well.
Line a cookie sheet with wax paper. In a bowl, add warm water. Set out 6 wrappers at a time. With a brush, brush each wrapper with warm water.
Add a tsp of the pork mixture in the middle of the wrapper. Cross the wrapper in half to form a triangle. Pinch the ends so that it is closed. Repeat until there is no filing left (can be made ahead of time by 3 hours).
Heat non-stick saute pan and add canola oil. Place the potstickers in the pan and cook for 5 minutes. Add 1 cup of boiling water to the pan (step back to be careful). Lightly cover the pan and cook for 5 minutes. Remove the cover and cook for 2-3 more minutes until there is no water left in the pan.
Serve with dipping sauce.