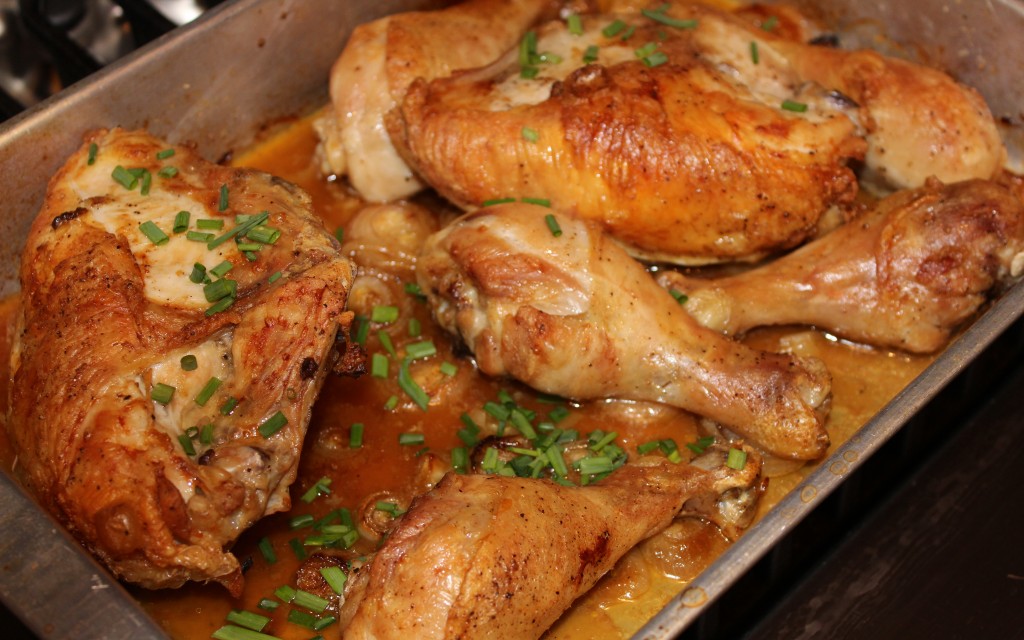 Yes, I know another chicken  recipe but if you are like me, there are just so many ways to enjoy chicken and it's so healthy.  Here is the story of this one.  It was 4:30 last Thursday and I have no idea what to make for dinner.  I had a cut up chicken in the fridge and went to Epicurious and looked around and found this recipe.  I made a couple of changes (of course!).  Number 1 the original recipe called for 4 large shallots.  As you can see from the picture above there are no shallots.  That is because I ate all the delicious omg shallots before I plated this.  So, I determined the number of shallots needs to be at least doubled.  I didn't use the parsley either as I didn't have any in the house but it was delicious without it!
The only other thing I did was to add the chicken stock to create a fabulous pan jus.  This recipe comes from the book French Farmhouse Cookbook which I just may order after trying this.  Nothing like a super simple delicious, healthy week night dinner!

Roast Chicken with Shallots
Author:
Adapted from Susan Herrmann Loomis
Prep time:
Cook time:
Total time:
Ingredients
1 Whole chicken cut up into parts (or 4 split breasts, 4 legs, whatever combo of chicken parts with skin and bones you like)
3 Tbsp Olive Oil
3 Tbsp Good Red Wine Vinegar
8 Large Shallots sliced thick
1 Cup Flat leaf parsley chopped fine (optional)
1 Cup Chicken Broth
Instructions
Preheat oven to 425.
Place chicken in a shallow roasting pan, sprinkle the shallots in pan, pour the olive oil and vinegar in pan. Salt and pepper. Now, turn the chicken and shallots in the pan all over until everything is coated with vinegar and olive oil. Arrange the chicken with the skin side down.
Cook chicken for 20 minutes. Remove, turn the chicken parts over, salt and pepper, then add about ½ cup to 1 cup of chicken broth to the bottom of the pan. You want the liquid covering about ½ inch of the bottom of the pan.
Finish in the oven for about 20 minutes until the chicken is golden and cooked through.
Rest the chicken on a cutting board, drain the pan juices (reserving the shallots). Grease the pan juices and serve the chicken sprinkled with parsley if using, shallots and the pan juices.