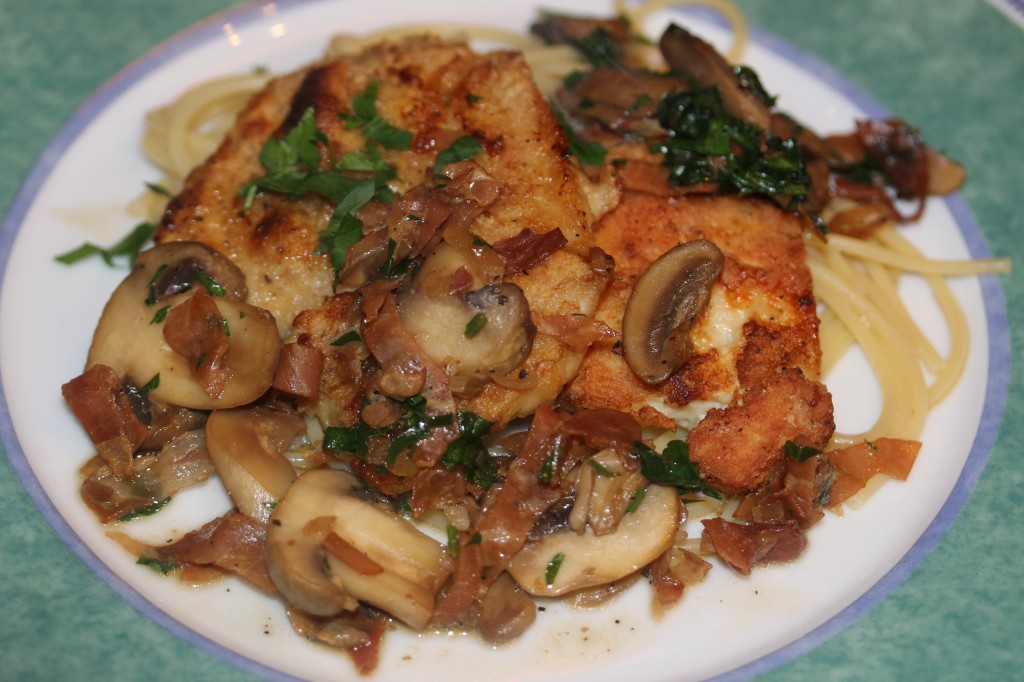 Chicken Marsala, a classic dish but too often at a restaurant the sauce leaves me feeling ripped off.  Bland.  Sorry but there is nothing worse than a wasted restaurant meal.  You know what I am talking about.  When  you order the wrong thing and it stinks which in most cases your companion ordered the right thing………you know what I am talking about!
Anyway, I digress.  When  I saw this recipe I knew the sauce would be great as it has prosciutto in it.  Salty, smoky prosciutto.  The only change I made was to add shallots.  I cannot seem to make a recipe without some type of onion in it, sorry.  I will say the amount of sauce this made was better for 2, than 4, so next time I will probably double the sauce.  If you do double, just remember it will take longer to reduce.  I served mine on a tiny bit of spaghetti.  Delish!

Chicken Marsala
Author:
Adapted from Tyler Florence
Prep time:
Cook time:
Total time:
Ingredients
4 Skinless, boneless chicken Breasts
1 Cup of flour for dredging
2 Tbsp Olive Oil
8 Oz. of Mushrooms sliced, whatever you prefer
4 Oz. prosciutto, chopped
3 Tbsp Shallots, chopped fine
½ Cup Marsala
½ Cup Chicken Stock
2 Tbsp Unsalted Butter
¼ Cup chopped flat leaf parsley
Instructions
Place the chicken breasts on a cutting board, cover with wax paper and pound until they are very thin. Season with salt & pepper.
Place the flour in a bowl, season with salt & pepper.
Heat a nonstick pan and add the olive oil.
Lightly Dredge the chicken in flour, shake well to remove any excess and cook for about 5 minutes per side until done (cook in 2 batches if it won't fit). Remove the chicken and place on a cookie sheet with foil to keep it warm.
Add the prociutto and shallots to the pan and cook for 2-3 minutes until the prosciutto starts to crisp up.
Add the mushrooms and cook for 5 minutes.
Add the Marsala and cook for 3 minutes.
Add the chicken stock and cook for 3-5 minutes, until sauce has reduced. Taste for seasoning.
Add the parsley, butter and return the chicken with juices to the pan.