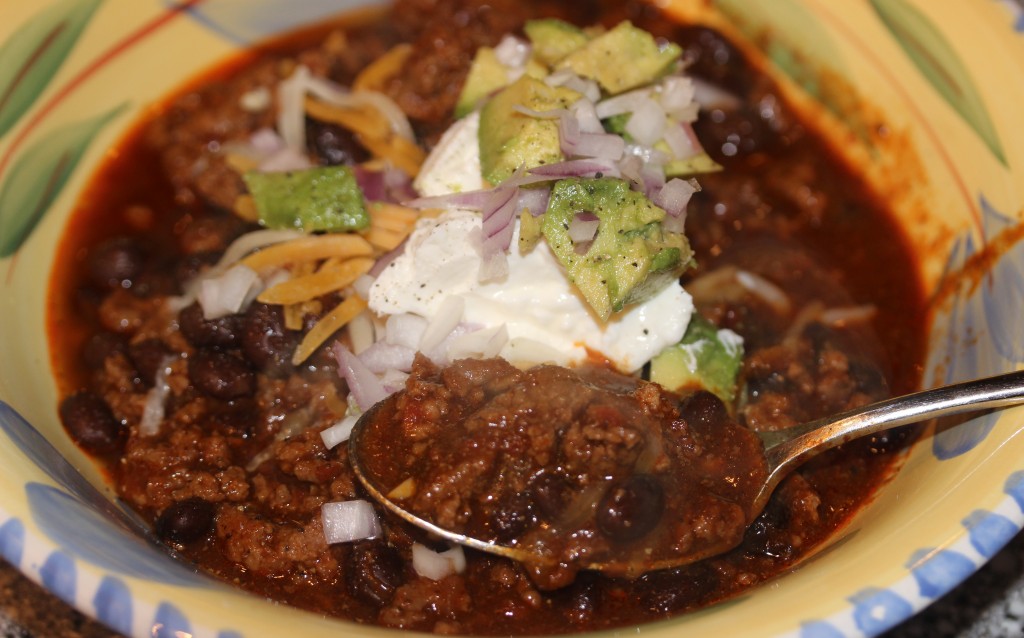 Chili, is there anything better on a cold winter night than a piping hot bowl of Chili?  I posted my age-old favorite Chili recipe a while ago.  That is my go to Chili recipe but when I saw this one in Bon Appetit's Fast Easy Fresh, I knew I had to try it.  You see, I LOVE Chipotle Chilis.  Love, love, love them.  I like it hot.  The original recipe had you add 2 Chipotle peppers.  I started with 3 and ended up with 5 :).   I also added the tomato paste and brown sugar as it needed a little sweetness to balance the chilis.  Other than that, I was pretty true to the recipe.  When I served mine I added avocado, low-fat sour cream, a little cheddar cheese, raw red onion and a few big spoons of  hot sauce which Bill found a little perplexing.  I told you I like it hot! 

I have had this cookbook for a while, but recently spent some time going through it again and have about 20 recipes tagged with a stick it note.  The recipes are all meant for quick, healthy weeknight dinners, so you will see more of them here for sure!

Chipotle Chili
Author:
Adapted From Bon Appetit Fast Easy Fresh
Prep time:
Cook time:
Total time:
Ingredients
3 Pounds 93% or 95% Lean Ground Beef (could sub chicken or turkey)
1 Tbsp Olive Oil
2 Cups Chopped Onion
2 Tbsp Chopped Garlic
¼ cup Chili Powder
2 Cans Beef Broth (14.5 oz)
1 Cup Tomato Puree
3 Tbsp Tomato Paste
1 Cup Dark Beer
2 Tbsp Brown Sugar
2 Chipotle Chilis, chopped fine (up to 5 if you like heat)
2 Cans Black Beans Drained and Rinsed (15 oz)
Sour Cream, Shredded Cheese, Chopped Avocado, Hot Sauce as desired for garnish
Instructions
Heat a dutch oven until hot, add the olive oil and brown beef in batches, this should take about 8 minutes per batch. Break down the beef as it is cooking, you don't want large chunks of beef (you want to brown the beef not boil it). Salt & Pepper. Remove beef and place in a large bowl.
Strain extra fat out of dutch oven and add the onions. Salt & Pepper the onions. Cook onions for 5 minutes.
Add the garlic and cook for 2 minutes.
Add the chili powder and tomato paste. Stir well and cook for 2 minutes.
Add the beer, beef broth, tomato purree, chipotle chilis, brown sugar, reserved beef and juices back to the dutch oven. Cover partially, reduce the heat to low and simmer for 90 minutes.
Strain the fat off the top of the chili. Add the beans and cook for 5 more minutes until the beans are heated through.
Serve with your favorite fixings. Can be frozen up to 3 months.