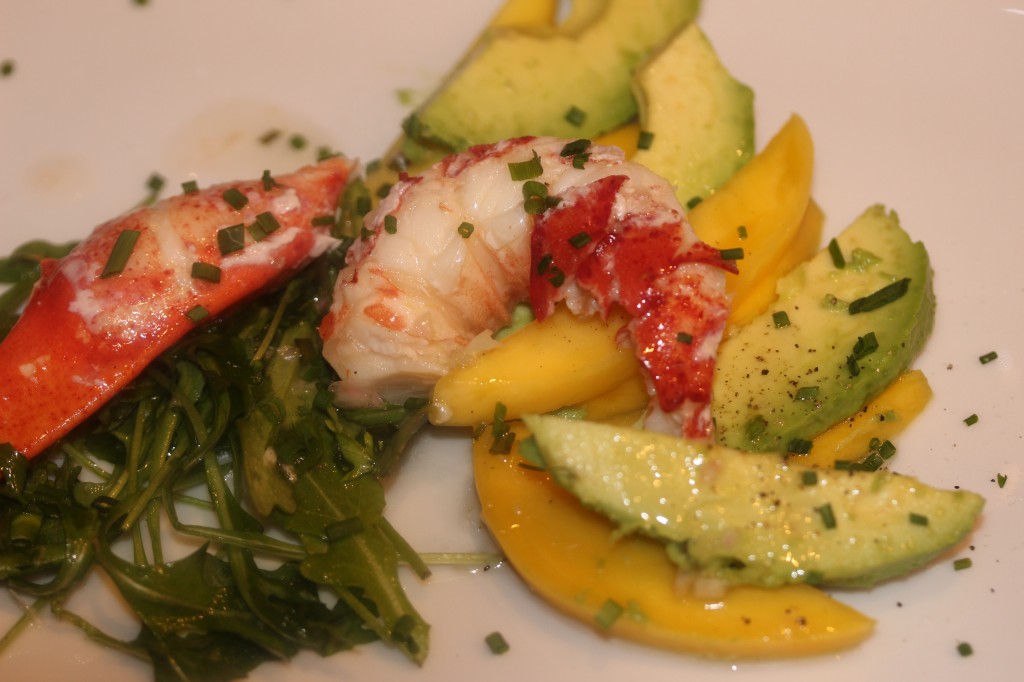 This is an elegant first course dish for a special occasion, or you could serve for 2 as a meal if you like.  The combination of the lobster with the creamy avocado and the sweetness of the mangoes is to die for!

Lobster avocado Salad
Ingredients
2 Cooked Lobsters
2 avocados, sliced thin
2 Mangoes, sliced thin
Baby arugula or Spring Mix
2 Tbsp finely chopped shallots
Canola oil
Zest and juice from 1 lemon
Seasoned Rice Vinegar
Finely chopped chives
Instructions
Shuck the lobsters and carefully remove the claw from the shell to keep intact. Slice the tail in half.
In a mason jar, add the shallots, lemon juice and zest, then add rice vinegar ⅓ of the jar. Add canola oil for the remaining ⅔ of the jar. Salt & Pepper. Shake vigorously. Taste for Seasoning.
Mix the greens with dressing and arrange on a plate.
Fan the mangoes and avocado on the plate. Salt & Pepper.
Mix the lobster with a little of the dressing. Place a claw and ½ lobster on each plate. Drizzle a little extra dressing over everything and sprinkle with the chives for garnish.