Classic homemade chicken soup can cure your ailments people!  It is best made with homemade broth but store bought is ok.  I do encourage you to collect any chicken bones every time you make a chicken, put them in a bag in the freezer and when you have enough, make a batch of homemade broth.  There are 2 magic ingredients in this recipe that make it a standout and give it a deep rich flavor that can be hard to find in homemade soups.
The first is a parmesan rind.  The rind flavors the broth in a way that is hard to pinpoint or describe.  Never, ever, throw away your parmesan rinds people!  Keep them wrapped in plastic  in your fridge for up to 1 month or in your freezer up to 3 months.  They add a great depth of flavor to almost any soup and if you are making a whole roasted chicken, stick one inside and magic will happen!
The second secret ingredient is center cut bacon.  I like the center cut as it has all the flavor with a lot less fat.  I think 3 slices is about 60 calories, so 3 slices in a whole recipe adds up to lots of extra flavor but not a lot of extra calories……….we call that a SCORE people!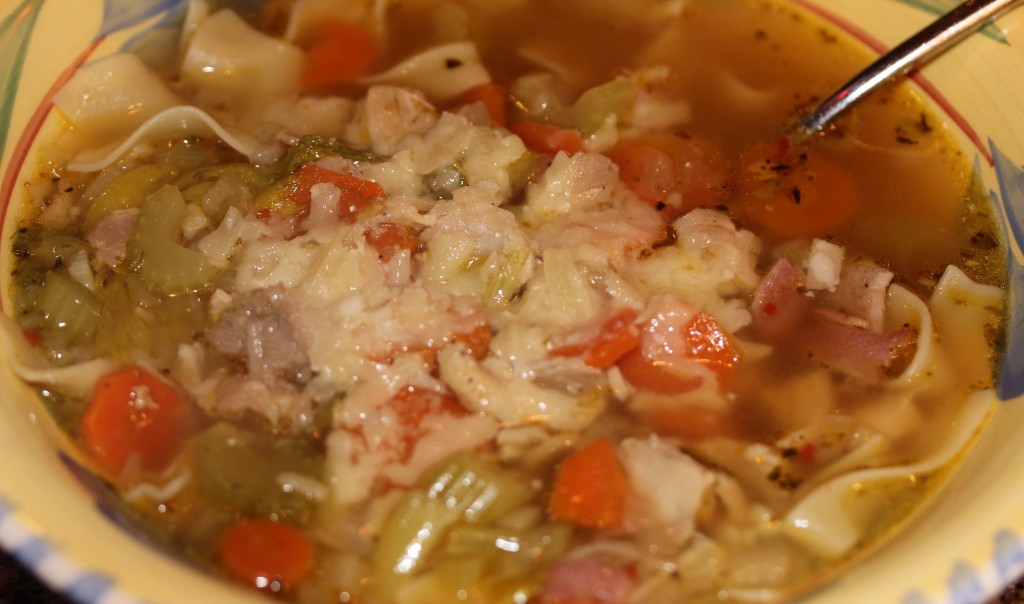 Homemade Chicken Soup
Prep time:
Cook time:
Total time:
Ingredients
8 Boneless Chicken Thighs
1-2 Tbsp Olive oil
3 slices center cut bacon, chopped
1 Cup finely chopped onion
1 Tbsp finely chopped garlic
1 Tbsp Italian Seasoning
1 tsp Crushed Red pepper
5 celery stalks, chopped fine
4 carrots, peeled and chopped fine
8 Oz. Shoe Peg corn (optional)
Parmesan Cheese Rind (optional but highly recommended)
64 oz. Homemade or Store Bought chicken stock
Noodles or pasta for serving if desired
Grated Parmesan or Romano cheese for serving if desired
Instructions
Heat the olive oil in a stockpot or dutch oven. Season the chicken and cook on both sides until it starts to brown, about 4-5 minutes per side. Set chicken aside.
In the same pan, add the bacon and cook until it starts to color.
Add onions to the pan, season with salt & pepper and cook stirring, for 4 minutes.
Add the garlic to the pan and cook for 1 minute.
Add the carrots, celery, red pepper and italian seasoning to the pan. Season again with salt & pepper. Cook for 5 minutes.
Return the chicken to the pan with any juices, add the parmesan rind and chicken stock. Stir well. Simmer for 30-45 minutes.
Remove the chicken and shred or cut into bite size pieces and then return to the pan.
Add the corn until warmed through.
I like to serve with whole wheat or regular egg noodles. Cook the noodles on the side, do not add them to the pan or they will fall apart and get soggy. Sprinkle the bowl with grated cheese.