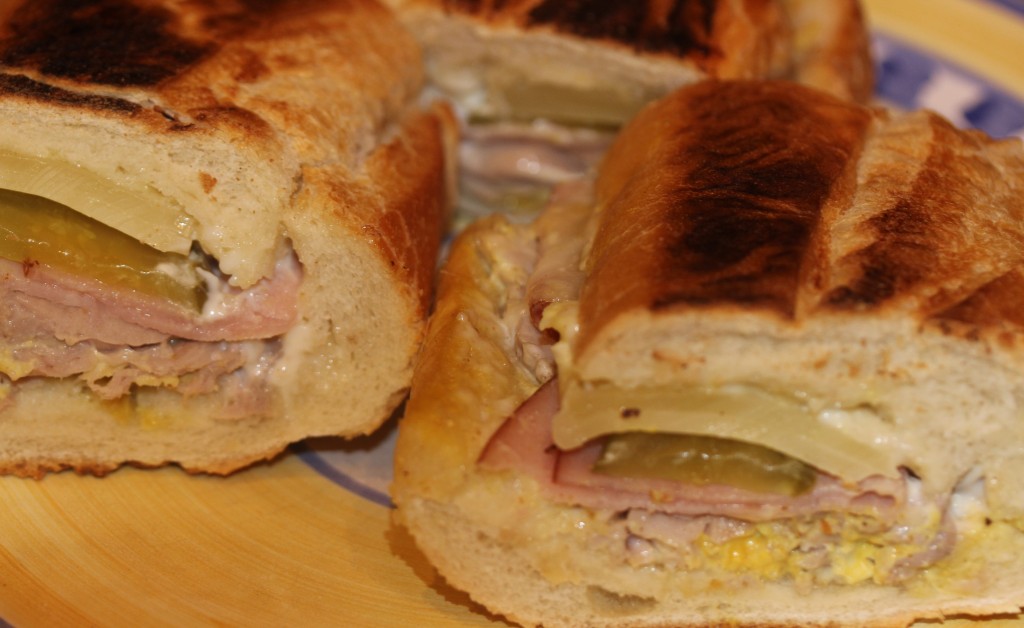 OMG there is nothing like a great sandwich, especially one with melted cheese and lots of flavor on crispy bread, yum!!!  This is a great sandwich for a football party, you could get them all assembled ahead of time and just finish when you are ready to serve.  Great use of any leftover roasted pork you might have!  Get your Cuban on!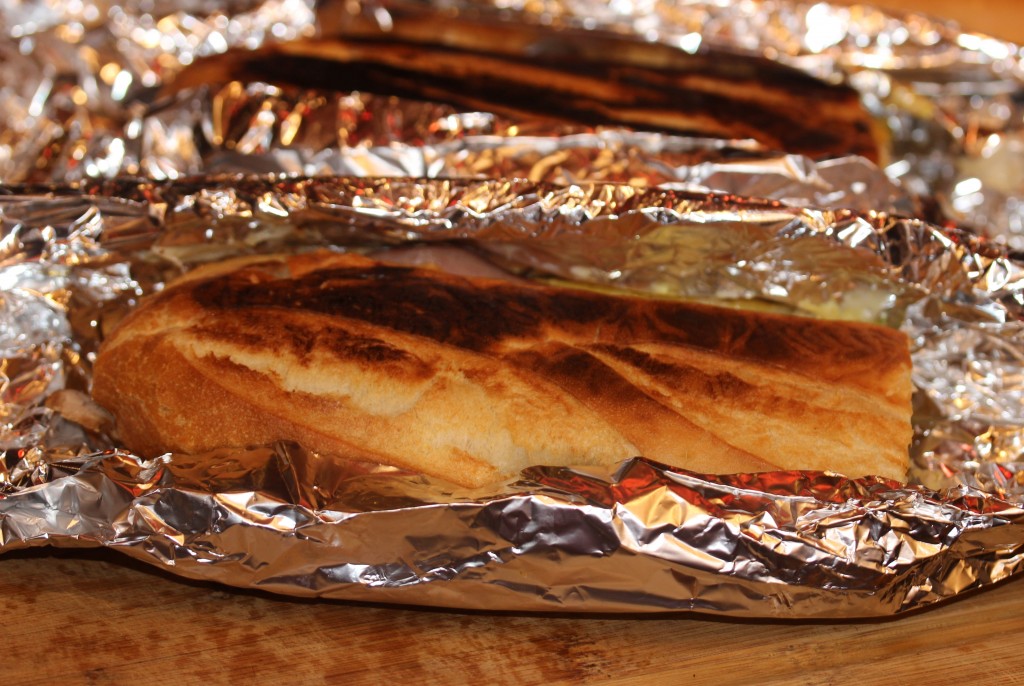 Cuban Sandwiches
Author:
Adapted from Chowhound
Prep time:
Cook time:
Total time:
Ingredients
12 medium garlic cloves
⅓ cup freshly squeezed orange juice (from about 1 medium orange)
2 tablespoons freshly squeezed lime juice (from about 2 medium limes)
2 tablespoons olive oil
2 tablespoons dried oregano
2 tablespoons kosher salt
1 tablespoon plus 1 teaspoon ground cumin
1 teaspoon freshly ground black pepper
1 3 pound boneless pork loin or tenderloin
1 (1-pound) loaf french bread
8 ounces thinly sliced cooked ham
8 ounces thinly sliced low-fat Swiss cheese
4 whole dill pickles, thinly sliced lengthwise
¼ cup yellow mustard
Instructions
Preheat the oven to 350.
Place the garlic thru black pepper in a blender. Blend well and season with salt and pepper.
Slice the pork in half (without cutting all the way thru) like a book. Rub half of the paste on the inside. Flip the pork over so that it is closed again and seal with kitchen twine. Rub the remaining paste on the pork. Allow the pork to marinate at room temperature for 30 minutes.
Add the pork to the oven and cook until temp hits 145 (about 45 minutes). Allow pork to rest for 10 minutes. Slice pork very thinly.
Now to assemble the sandwich:
Cut the bread in half but not all the way thru. I like to pull out a little of the extra bread on the inside, but that is up to you. Coat the inside of the bread with the mustard.
Add a layer of pork to the bottom of the sandwich.
Add a layer of ham, then a layer of the cheese, then the pickles.
Now, put the sandwich back together and cut into 4 equal pieces.
Wrap each sandwich in foil.
In a skillet, spray the skillet and heat on high. Add the sandwiches to the skillet and turn the heat to medium. Place another skillet and something heavy on top of the sandwiches so you have some weight on top of them. Cook for 5 minutes and then turn the sandwiches over and cook for 5 more minutes.
Take the foil off and cut each sandwich into 2-3 slices. Serve!