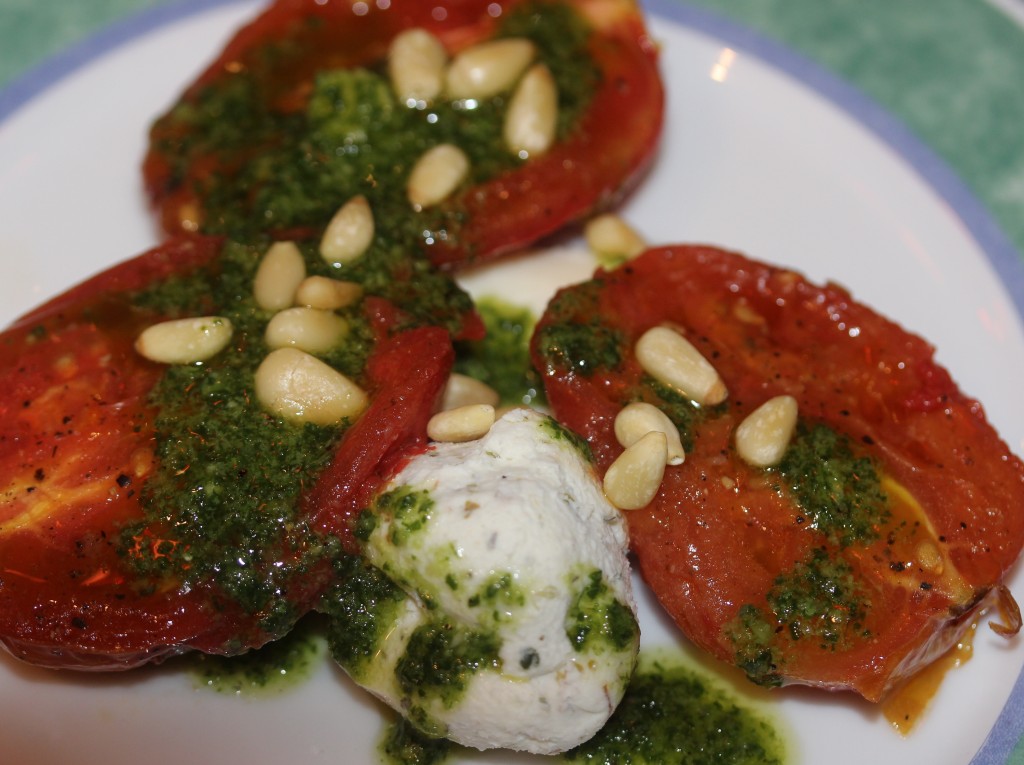 I am a tomato fanatic.  I stalk the farms in the summer just waiting for the first round of local fresh tomatoes and once they arrive, I eat them every day, sometimes at every meal.  There is nothing so wonderful as a warm tomato with a little salt on it……..heaven.  Once September ends and the only tomatoes I can get are at the grocery store, it's a little depressing.  Even if they are ripe and red they don't taste anywhere near like the summer tomatoes.
This salad has you roast the tomatoes slowly and the roasting process makes those ho hum store bought winter tomatoes taste….wait for it………Good!  They may not rank with the summer ones, but they are close.  This is a great starter or side dish for a comforting winter meal.

Winter Caprese Salad
Author:
Adapted from Mario Batali
Prep time:
Cook time:
Total time:
Ingredients
12 Plum Tomatoes
1 Tbsp Granulated Sugar (optional)
½ Cup Olive Oil
2 Cloves of Garlic
Dash of Sherry vinegar (optional)
4 Tbsp of Grated Parmesan
2 Cups Basil
2 Tbsp Toasted Pine Nuts
4 oz. Herbed Goat cheese (can use plain or substitute Buffalo Mozzarella)
Instructions
Heat the oven to 200.
Slice the tomatoes in half and toss them on a cookie sheet with 2 Tbsp Olive oil, salt & pepper and 1 Tbsp granulated sugar if using. Place the tomatoes cut side down and roast in the oven for 2 hours.
Meanwhile, make the pesto: Place the Parmesan, Basil and garlic in a food processor or blender. Pulse to combine. Add the remaining olive oil, dash of vinegar,salt & pepper to taste.
Divide the goat cheese into 4 servings and form them into 4 little cheese balls.
To serve: I prefer to serve this with the tomatoes warm, or you can serve them at room temperature. Place the goat cheese in the middle, then 3 tomato slices around, drizzle with the pesto and garnish with the pine nuts. Leftover pesto can be stored up to one week, add a little extra olive oil on top to prevent it from browning.