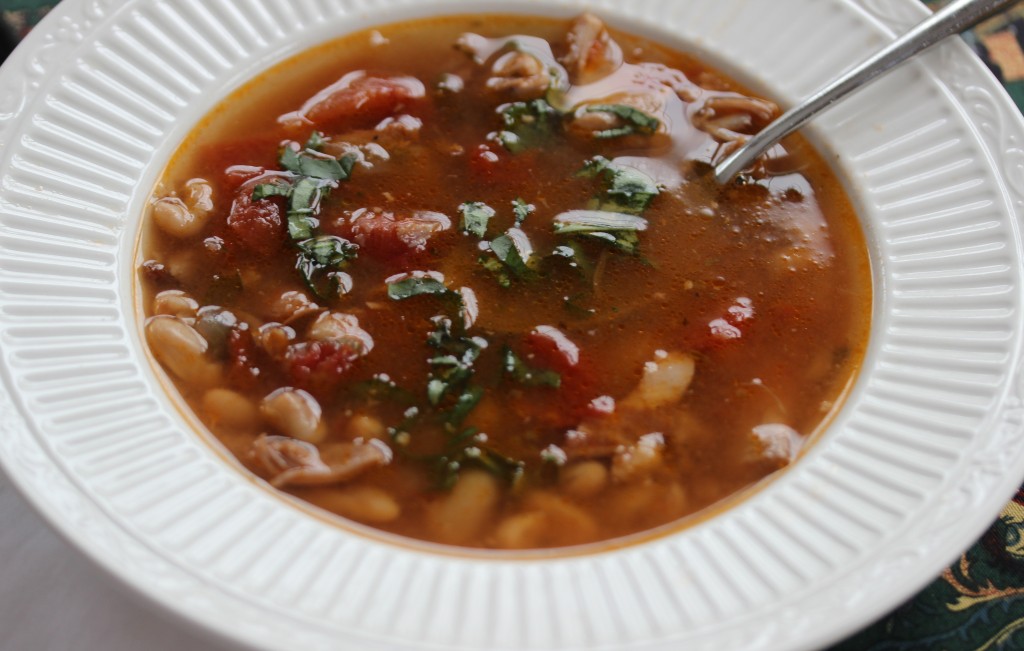 Yesterday I was feeling the effects of 5 days in a row of eating rich food that I don't normally eat and really wanted to make something healthy and comforting for dinner.  We had friends coming over too and it was just going to be casual, so something make ahead was needed to.  I turned to this delicous Chicken Stew with Tomatoes and White beans.  It is comforting and served with a salad makes a light meal.  You could make it even lighter by skipping the bacon, but the bacon has only 30 calories a slice cooked, so I think it is worth it.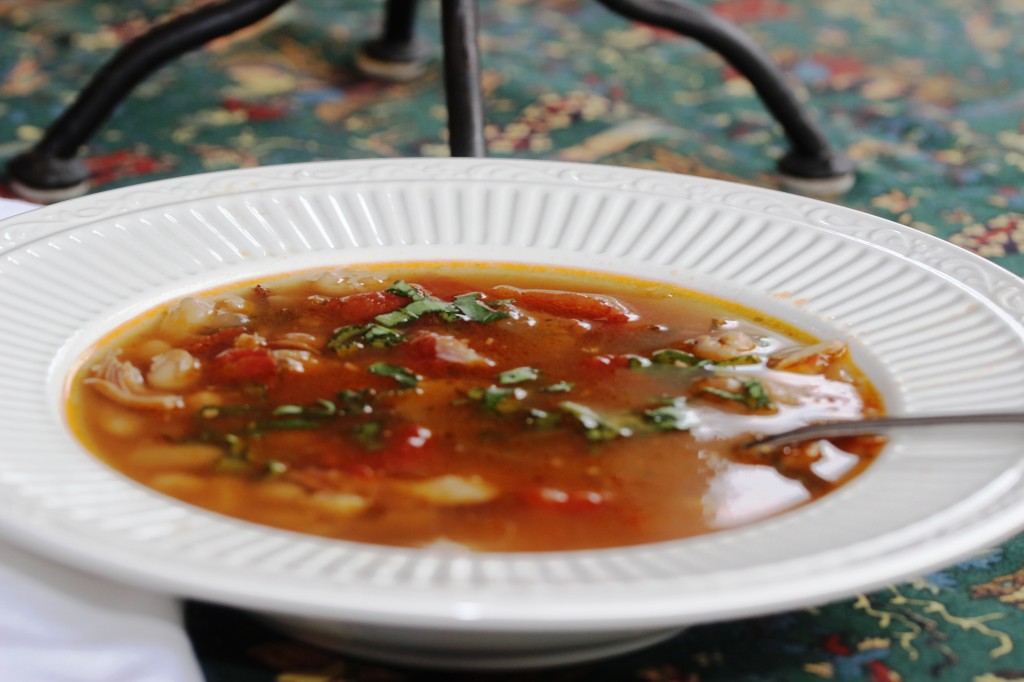 Chicken Stew with Tomatoes & White Beans
Author:
Adapted from Bon Appetit
Prep time:
Cook time:
Total time:
Ingredients
4 Center Cut Bacon Slices, chopped
6 Boneless Skinless Chicken Thighs
All purpose flour
1 Large onion, chopped fine
5 Garlic cloves, chopped fine
2 14.5 oz. Cans Stewed Tomatoes
2 14.5 oz. Can Chicken Broth (use homemade if you have it)
¾ Cup Dry Red wine
½ Cup chopped fresh basil
1 Tbsp. Dried Oregano
2 15 oz. Cans Cannelini Beans
Instructions
Cook chopped bacon in a heavy dutch oven until browned, remove bacon but keep the fat in the pan.
Season the chicken thighs with salt & pepper and lightly dust in the flour. Add the chicken to the pan with the bacon fat and cook on both sides until lightly browned, appx. 3 minutes per side. Repeat in batches if necessary.
Remove the chicken and add to a bowl.
Add the onions and garlic, season with salt & pepper and cook for 5 minutes.
Add the wine to the pan, scrape the bottom to get all the brown bits and simmer for 3 minutes.
Add the tomatoes, broth, basil, oregano and chicken to the pan. Cover and simmer for 30 minutes until chicken is cooked through.
Remove the chicken and chop into bite size pieces. Add the chicken back to the pan and add the beans. Simmer for 10 more minutes until beans are heated through. Taste and season again if necessary.
Note: Leftovers can be frozen up to 3 months.