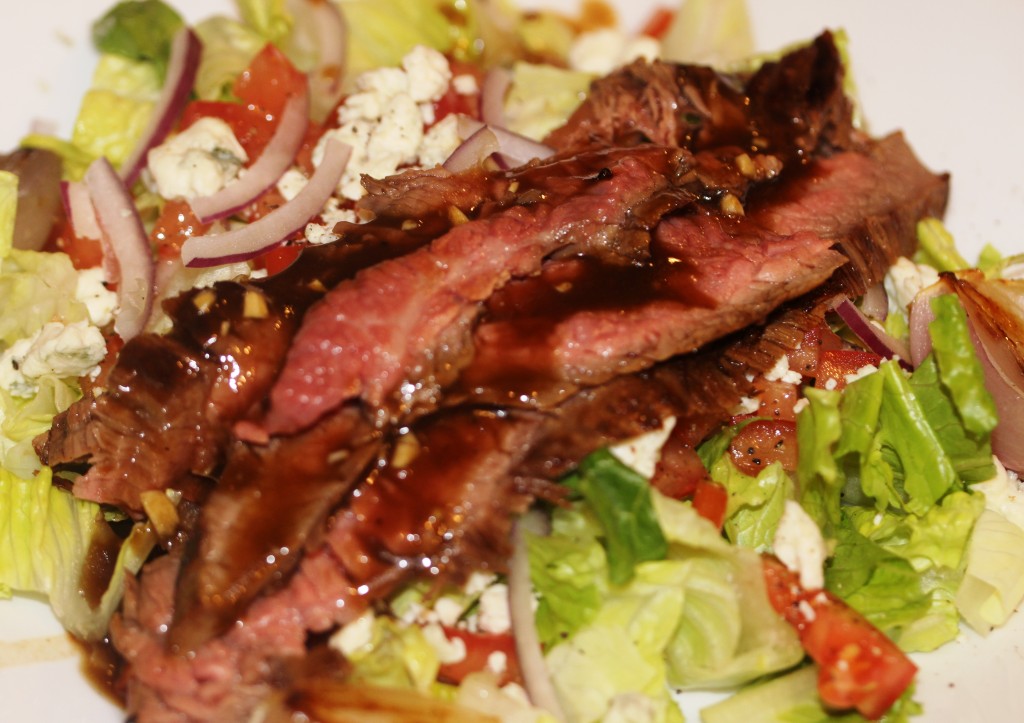 I love the combination of the rich steak with the sweet lettuce and the salty blue cheese.  This is a great quick weeknight dinner or a great way to use up leftover steak.  Flank steak is really lean so it's healthy too

  Bonus!

Steak Salad
Prep time:
Cook time:
Total time:
Ingredients
1 Pound Flank Steak (or any leftover steak)
2 Tbsp olive oil
Blue Cheese Crumbles
4 Shallots
1 Tomato Chopped Fine
½ Red onion, sliced thin
Boston Lettuce, chopped
Instructions
Preheat the oven to 400. Place the shallots and a 1 Tbsp of olive oil in a pan, salt and pepper and roast in the oven until shallots start to get golden, 25-30 minutes.
In a large bowl, add the lettuce, blue cheese, red onion and tomatoes, set aside.
Meanwhile, salt and pepper the steak, rub with 1 Tbsp olive oil.
Heat a grill pan on high and cook the flank steak until 120 degrees, about 7-9 minutes total, turning after the first 4 minutes. Let the steak rest with foil for 10 minutes. Slice steak on against the grain.
While the steak is resting toss the salad with the dressing. Be careful not to overdress, you can always add more. Season the salad with salt & pepper.
Plate the salad, by putting the greens on a plate, add the shallots and steak to the top.