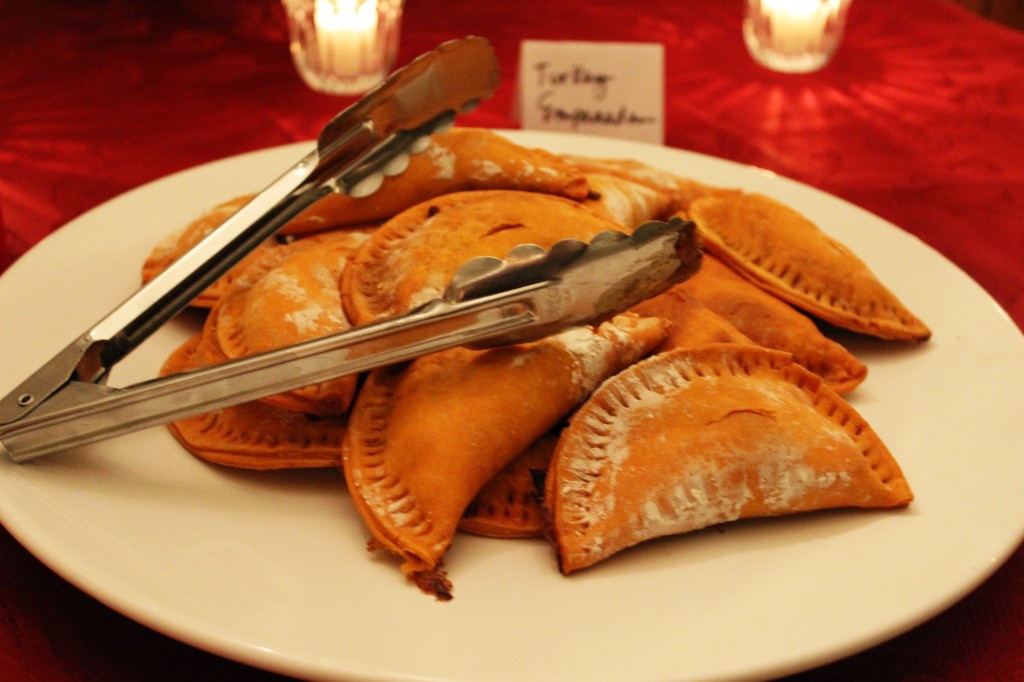 My family is crazy over these!  They are great for an appetizer, or a relaxing dinner served with a salad on the side.  You can replace the turkey with beef, pork or chicken if you like

Turkey Empanadas
Prep time:
Cook time:
Total time:
Ingredients
1 Pound of Ground Turkey
1 Tbsp Olive Oil
1 Onion, chopped fine
1 Tbsp chopped garlic
2 Tbsp Cajun Seasoning
1 8 oz. Can Tomato Sauce
1 Cup Shredded Cheddar Cheese (or jack, whatever you like)
20 Goya Empanada wrappers
Flour for dusting
Instructions
Preheat oven to 375
In a saute pan, heat the olive oil and once hot, add the turkey and chop it up in the pan for 5 minutes.
Add the onion, garlic, cajun seasoning to the pan and cook until turkey is cooked through, about 10 more minutes.
Add the tomato sauce and cheese to the pan, stir well, season to taste. (Filling can be made a day ahead of time).
Spray a cookie sheet.
Flour a working area and put 4 empanada wrapper on the counter. Brush eat wrapper with water. Place a heaping tbsp of filling in the middle of the wrapper. Fold the wrapper over and seal with your fingers. Place all the empanadas on the cookie sheet.
Using the tip of a fork, press on the edges of the empanadas to create a tight seal (look at the photo for example). Empanadas can be assembled 4-6 hours before baking. Bring to room temperature before baking.
Bake empanadas for 15 minutes covered with foil. Remove foil and bake 10-15 minutes longer, until they start to color.
Empanadas are great hot and at room temperature.