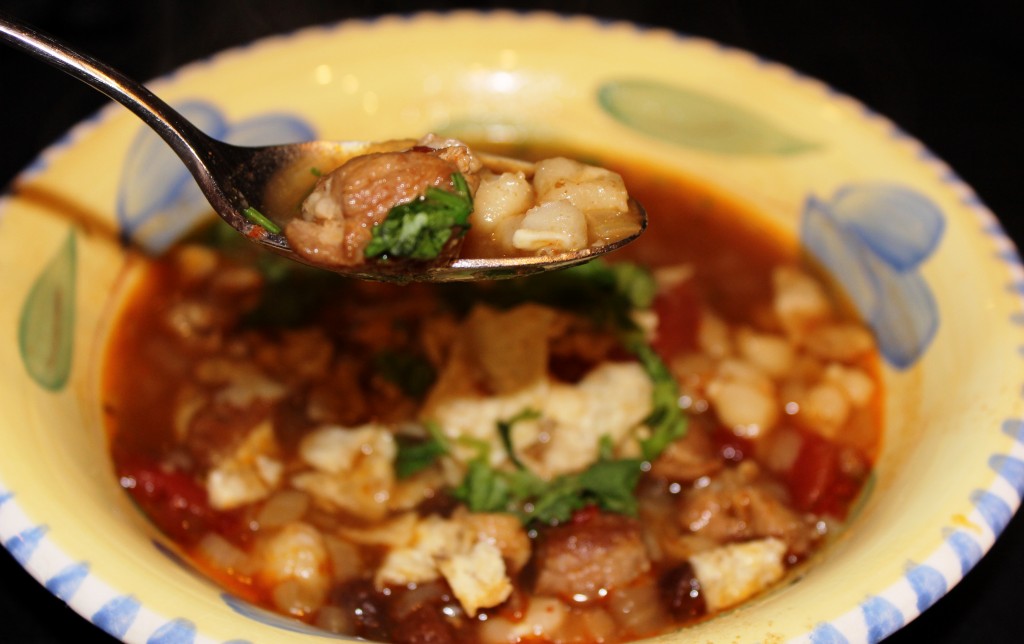 Have I told you how much I adore soups and stews?  Well, I do.  There is something so warm and welcoming about a hearty bowl of homemade soup.  Homemade soup is healthy and inexpensive to make.  Whenever I make a batch, I always double it and freeze the leftovers in individual containers to have on hand for a healthy delicious lunch.  If you are going to double this recipe, make sure you make it in 2 different pots.  I really found making this that if you double in a large pot, the flavors are never as intense as when you make a single batch in one pot.
If you like spice, add more chiles!  I will usually add 3 or so and then an hour into the cooking add a little more if it's not too spicy.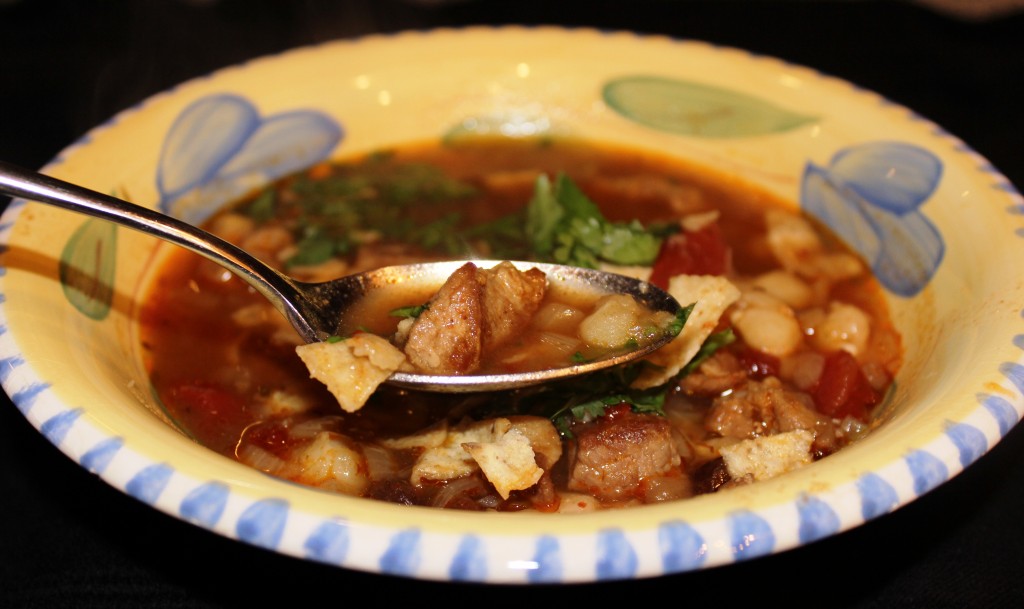 Posole-Mexican Pork Stew
Author:
Adapted from Cooking Light
Prep time:
Cook time:
Total time:
Ingredients
Salt & Pepper
2 Tsp Paprika
2-3 Pounds Pork Butt, cut into bite size pieces
1-2 Tbsp Olive oil
2 Cups Chopped onion
3 Garlic cloves, chopped
1½ cups water
¼ cup raisins
1 tsp ground coriander
1 tsp ground cumin
1 tsp ground oregano
1 14 oz can stewed tomatoes
1 14 oz can low sodium beef broth
1 14 oz can low sodium chicken broth
1 can chipotle chiles in adobo sauce
2 15.5 oz cans hominy (Goya brand preferable)
For garnish: Crushed tortilla chips, chopped cilantro, shredded lettuce
Instructions
Combine the pork in a large mixing bowl, add the paprika and salt & pepper. Add more paprika if you like spice.
Heat the olive oil in a stockpot or dutch oven. Add the pork in batches and saute until it gets a little color, about 10 minutes. Remove partially cooked pork and put in the next batch of pork. Set aside. Do not rinse pan.
To the pan juices add the onion and garlic and saute for 5 minutes. Return pork to pan and add in water, raisins, spices, tomatoes, beef broth and chicken broth. Stir well.
Remove 2 (more if you like it spicy! I do about 4) chiles, remove seeds and chop fine. Add the chopped chiles and 2 Tbsp of the chile sauce to the pot. Unused chiles will stay good in the refrigerator up to one month.
Bring to a boil, cover, reduce heat and simmer for 2 hours until pork is tender.
Using a potato masher, mash the pork in the pan a bit to shred the pork. If serving right away, skim the fat off of the top. If making a day ahead, cool, place in refrigerator and skim the fat the next day.
Add the hominy and cook for 5 minutes until warmed through.
To serve, ladle the stew into a bowl and garnish with the lettuce, chips and cilantro.
Freezes well up to 3 months.