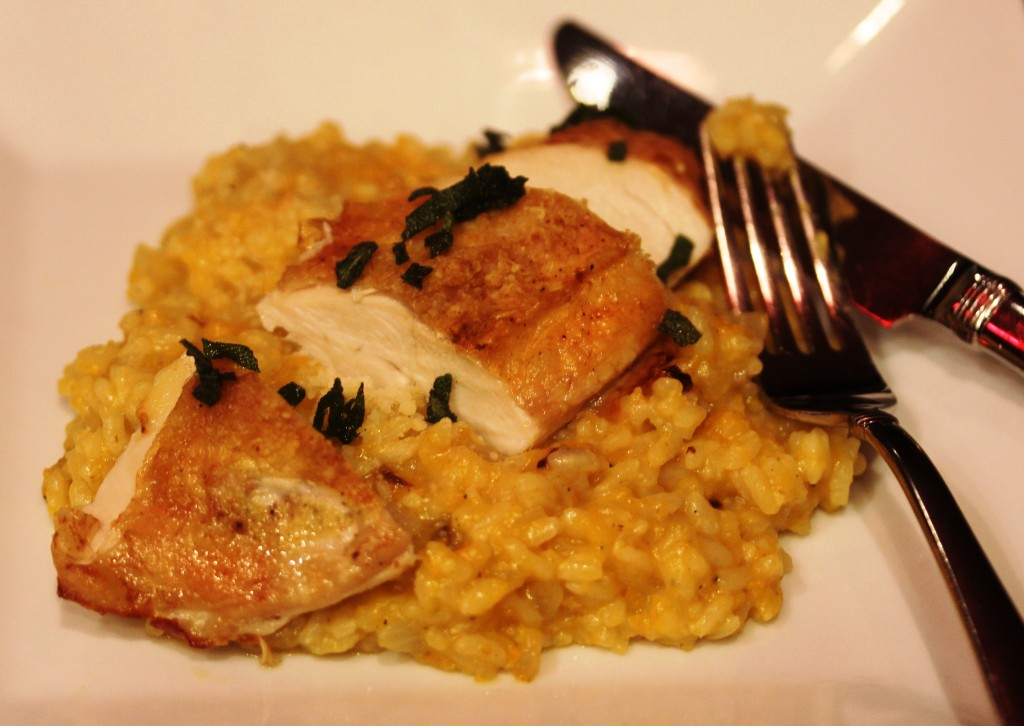 I love Risotto and I love Roasted Butternut Squash, so of course I love Butternut Squash Risotto!  I have seen recipes where they just add the roasted butternut chunks to the risotto, but that doesn't give you the great butternut flavor in every bite, so I decided to puree the butternut.  Perfect!  You need to be a little patient making risotto.  You can cheat a little and throw a couple ladles in at a time to give you a few minutes between stirring but this is a dish you need to be standing by on.  Get your family  to help stir!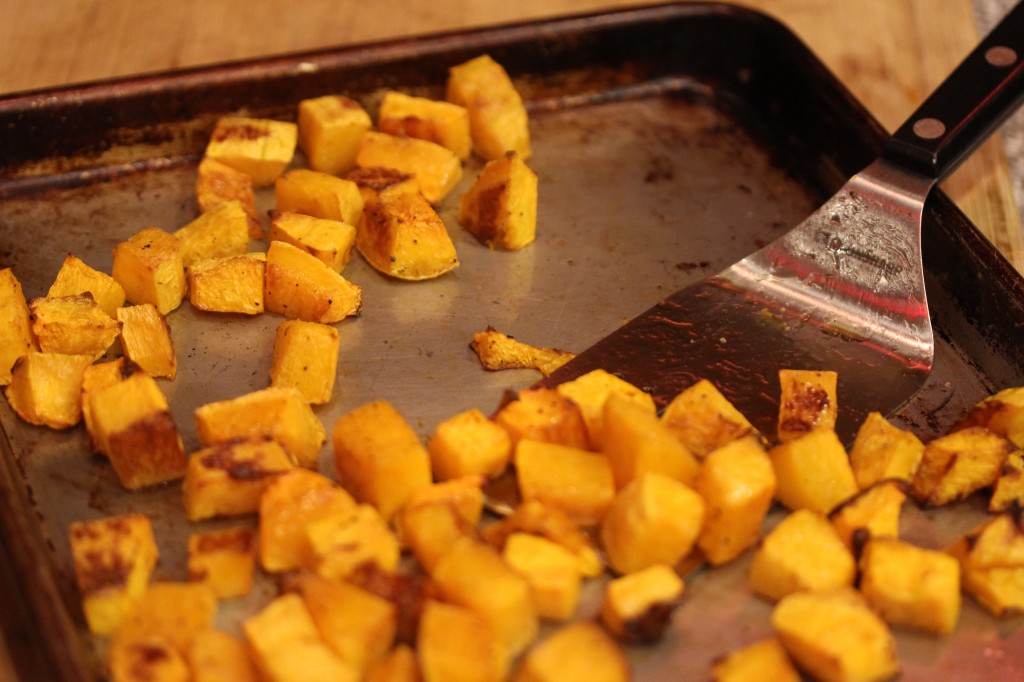 Butternut Squash Risotto with Roasted Chicken
Prep time:
Cook time:
Total time:
Ingredients
4 Split Chicken Breast on the Bone
64 Oz. of Chicken Broth
1 Cup Arborio Rice
1 Cup Onion, chopped fine
2 Tbsp Chopped Garlic
1 Butternut Squash, peeled and cute into bite size pieces.
1 Cup White Wine
2 Tbsp Sliced fresh sage (optional)
3 Tbsp Olive oil
1 Cup Grated Parmesan
Instructions
Preheat the oven to 400.
Place the butternut squash on a cookie sheet, drizzle with olive oil and salt and pepper to taste. Roast the butternut for about 30 minutes until it starts to brown and carmelize.
Place the chicken breasts on a sprayed cookie sheet, season with salt and pepper. Roast for 30-45 minutes until the chicken is cooked through and the skin turns a crisp golden brown.
Meanwhile, place the chicken broth in a sauce pot and simmer.
In a large stockpot, heat the olive oil and add the onion and garlic. Salt & Pepper. Saute the onion for about 5 minutes. Add the rice, and saute for 2 minutes.
Add the wine and let it reduce, 2-3 minutes. Season with salt & pepper.
Now, add the stock a ladle at a time, stirring pretty constantly for about 35 minutes. Toward the end, continue to taste so that you don't end up adding too much stock. You want the outside of the rice to be soft, but the inside to have a little chew.
Puree the roasted butternut in a food processor, blender or emulsion blender. Add about a cup of the butternut puree to the risotto.
Add the parmesan to the risotto.
If using the sage garnish, quickly fry the sage in a small pan with olive oil.
To serve, I like to cut the chicken off of the bone into slices and place on top of the risotto. Finish with the fried sage.