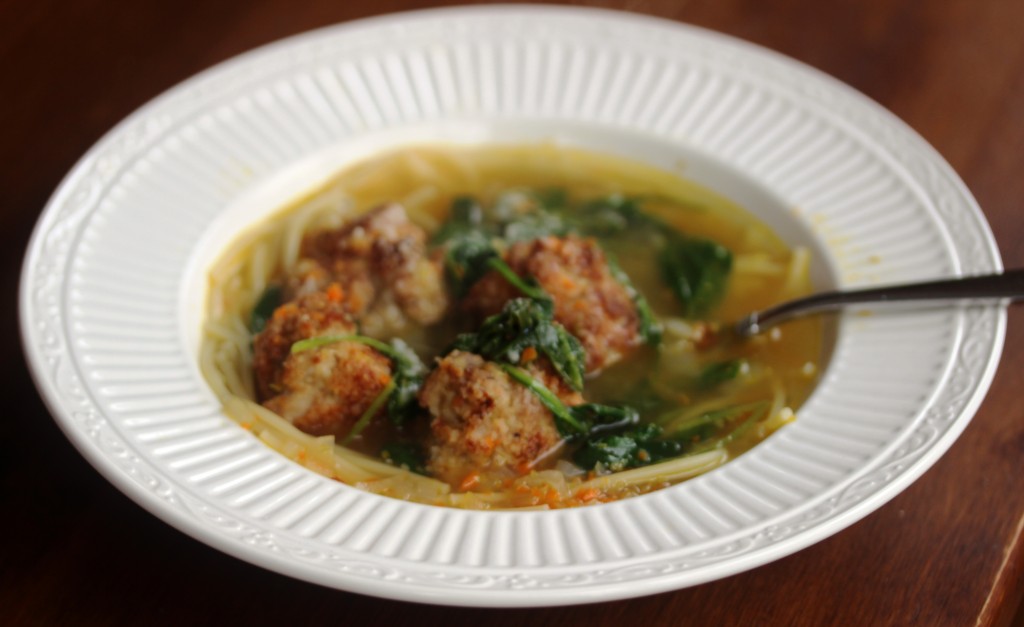 This soup is from one of my favorite cookbooks, Back to Basics by Ina Garten.  When you are craving a hot comforting bowl of soup, this is a satisfying, healthy option.  I always make a double batch and freeze the rest.
Cook whatever pasta you want on the side.  If you add it to the pan, the leftovers won't freeze well and get really soggy.  I tend to grab whatever pasta is open and needs to be used up.  In this case, I cut up some spaghetti.  You can skip the pasta if you are Gluten free or Paleo.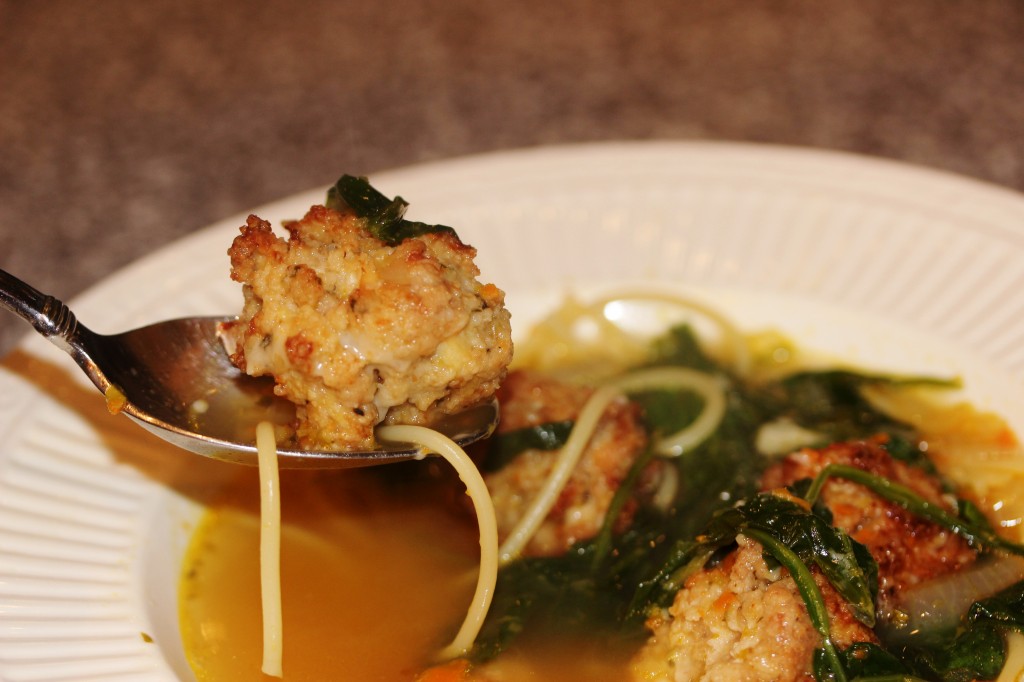 Italian Wedding Soup
Prep time:
Cook time:
Total time:
Ingredients
¾ Pound Ground Chicken
½ Pound Chicken Sausage
⅔ Cup Seasoned Bread Crumbs
2 tsp Minced Garlic
3 Tbsp Chopped Fresh Parsley
¼ cup grated Romano cheese
¼ cup grated Parmesan cheese
3 Tbsp Milk
1 egg, beaten
Salt & Pepper
2 Tbsp Olive Oil
1 cup minced onion
3 carrots, chopped fine
2 celery stalks, chopped fine
10 cups chicken stock
½ cup white wine
Parmesan rind (optional)
1 cup small pasta of your choice, cooked al dente
12 oz. Baby Spinach
Instructions
Preheat the oven to 350 degrees and line a cookie sheet with parchment paper.
To a large mixing bown, add the ground chicken, sausage, bread crumbs, garlic, parsley, cheeses, milk, egg and salt & pepper. Combine gently and form into very small meatballs.
Place the meatballs onto the cookie sheet and bake in the oven (turning over in 15 minutes) until cooked through, about 30 minutes.
Meanwhile, heat the olive oil in a soup pan. Add the onions, carrots and celery. Season to taste with salt and pepper and cook for about 8 minutes.
Add the white wine, chicken broth and parmesan rind if using. Simmer for 30 minutes.
Add the meatballs and simmer for 10 minutes.
Add the spinach and simmer for 2 minutes, until the spinach is wilted.
Add some pasta to the bottom of a soup bowl, ladle the soup over and serve with a sprinkle of parmesan & romano cheese.
May be frozen up to 3 months. Do not freeze with pasta.