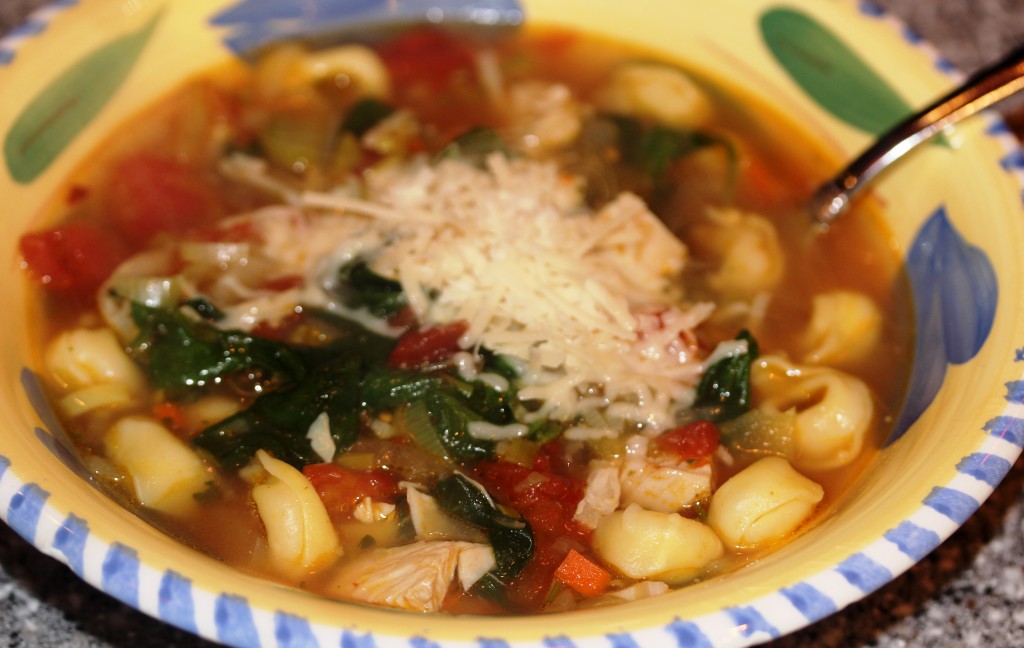 I just love a bowl of soup, especially when the weather is getting cold and a fire is roaring in the fireplace.  Some like the soup with lots of veggies, meat & pasta and some like more broth.  I am a broth girl.  I much prefer more broth, just ask Bill he has heard this a million times!  LOL  This broth takes on an italian twist with the addition of tomatoes and rosemary.  I add the red pepper for a little heat but you can ommit if you don't like that.  You could add some pancetta to this as well………hmm I think I will do that next time!
Soups are fabulous for being creative.  Don't like spinach?  Replace with escarole.  Don't have chopped tomatoes?  Add fresh, or stewed.  Soups are also good for using up those lone veggies that are going to go bad if you don't use them up.  Have fun experimenting and creating a healthy delicious soup.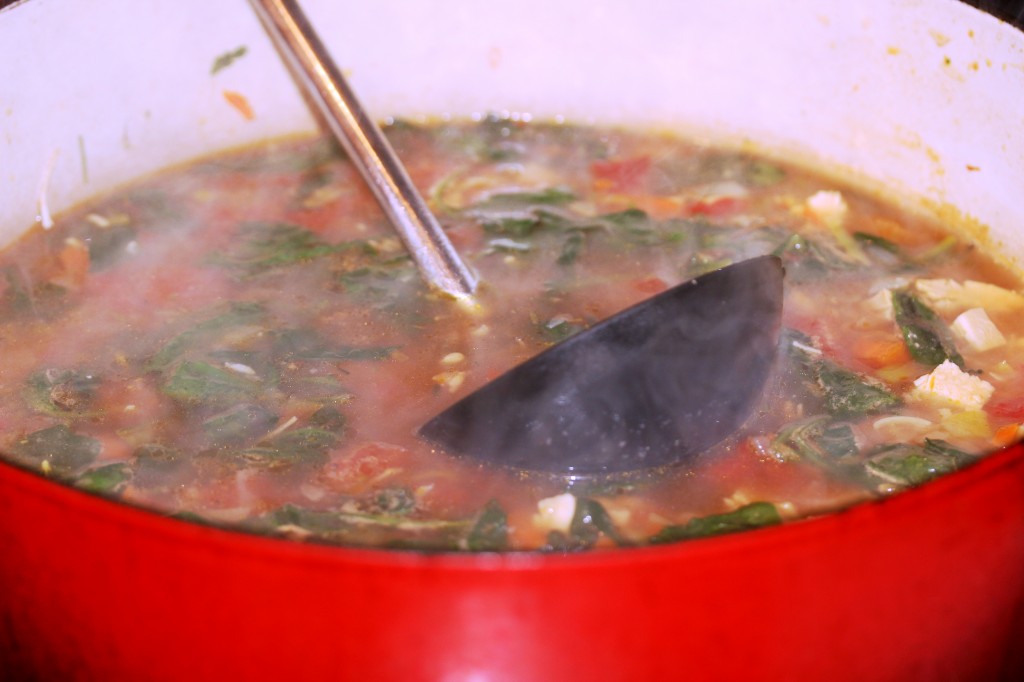 Turkey Tuscan Soup
Author:
Adapted from Gourmet
Prep time:
Cook time:
Total time:
Ingredients
10 Cups Homemade Turkey Stock (Can use store bought or substitute chicken stock if necessary)
1 Tbsp Olive oil
2 Carrot, chopped fine
1 Onion, chopped fine
1 Tbsp garlic, chopped fine
1 leek, chopped fine
2 celery stalk, chopped fine
1 14 oz. Can chopped tomatoes
1-2 cups leftover turkey
8 oz. Baby Spinach
8 oz. Cheese Tortellini (or your preferred pasta type, ziti, macaroni, ditalini would work well)
1 tsp crushed red pepper (optional)
1 Tbsp fresh rosemary (can sub 1 Tbsp dried italian seasoning)
Grated Parmesan for serving
Instructions
In a stockpot, heat the olive oil.
Add the onions to the pan, salt and pepper and cook for 5 minutes.
Add the carrots, leaks, celery and garlic to the pan. Cook for 5 minutes.
Add the rosemary, crushed red pepper to the pan. Stir well and then add the tomatoes. Season to Taste.
Add the stock and simmer for 30 minutes until the veggies are cooked.
Add the turkey and the spinach to the pan and cook for 5-7 minutes until the spinach is wilted and the turkey is warmed up. Taste and season again if needed.
Meanwhile, cook the pasta al dente.
Add the pasta in the bottom of the soup bowl, pour the soup over and garnish with parmesan cheese.