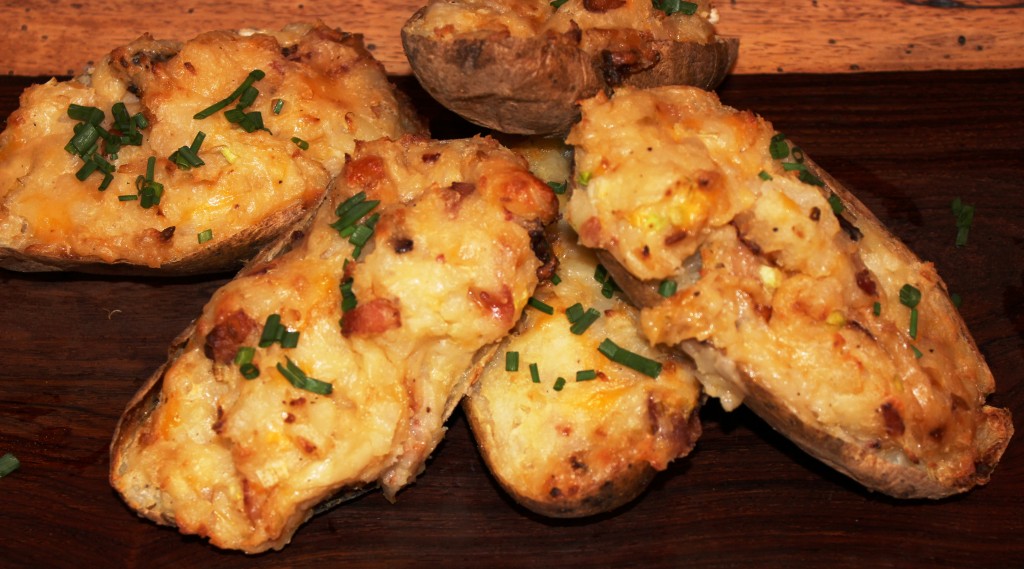 I love potatoes.  I love cheese.  I love bacon and onions and garlic.  I love these twice baked potatoes!  I make them every year for my  Christmas dinner, they go so well with beef.  I love that I can make them the day before and just throw them in the oven.  You can't really overcook them either, so if your roast ends up taking longer than you thought, you are still ok.  You can sub skim milk for the half and half, but why would you?  LOL
Twice Baked Potatoes
Prep time:
Cook time:
Total time:
Ingredients
4 Large Russet Potatoes
1½ cups shreded cheddar cheese
½ cup half and half (can substitue milk or chicken broth)
4 slices of bacon
1 medium onion, finely chopped
2 Tbsp butter
4 garlic cloves, finely chopped
Salt and pepper
4 scallions, finely chopped
2 Tbsp chopped chives for garnish
Instructions
Preheat oven to 375.
Poke potatoes with a fork and bake until cooked well, 45-60 minutes. If you are short on time, you can pre-cook in a microwave for a few minutes and finish in the oven.
Meanwhile, chop the bacon and cook at medium heat in a skillet until it starts to color.
Add onions and garlic to the bacon, season wiith salt & pepper and cook until the bacon and starting to get crispy and the onions are soft.
Slice the Potatoes in half and with a spoon, remove the potatoes and add to a large bowl, taking care to keep the skins in one piece.
Salt and pepper the inside of the skin.
Mash the potatoes.
Add the cheese, half and half, butter, bacon mixture, scallions to the bowl. Mix well and season to taste with salt and pepper.
Place the potatoe mixture back into the skins until they are all filled. (Can be made 1-2 days ahead of time to this point, if you do make ahead, bring to room temperature before baking). Place the potatoes on a cookie sheet and cover with foil.
Bake the potatoes for 30 minutes. Remove the foil for 5-10 minutes until the top browns a litlle. Sprinkle chives on to serve.
Note: The potatoes are very forgiving. You could cook at 325 or 350 if you had something else in the oven, just adjust the cooking time.