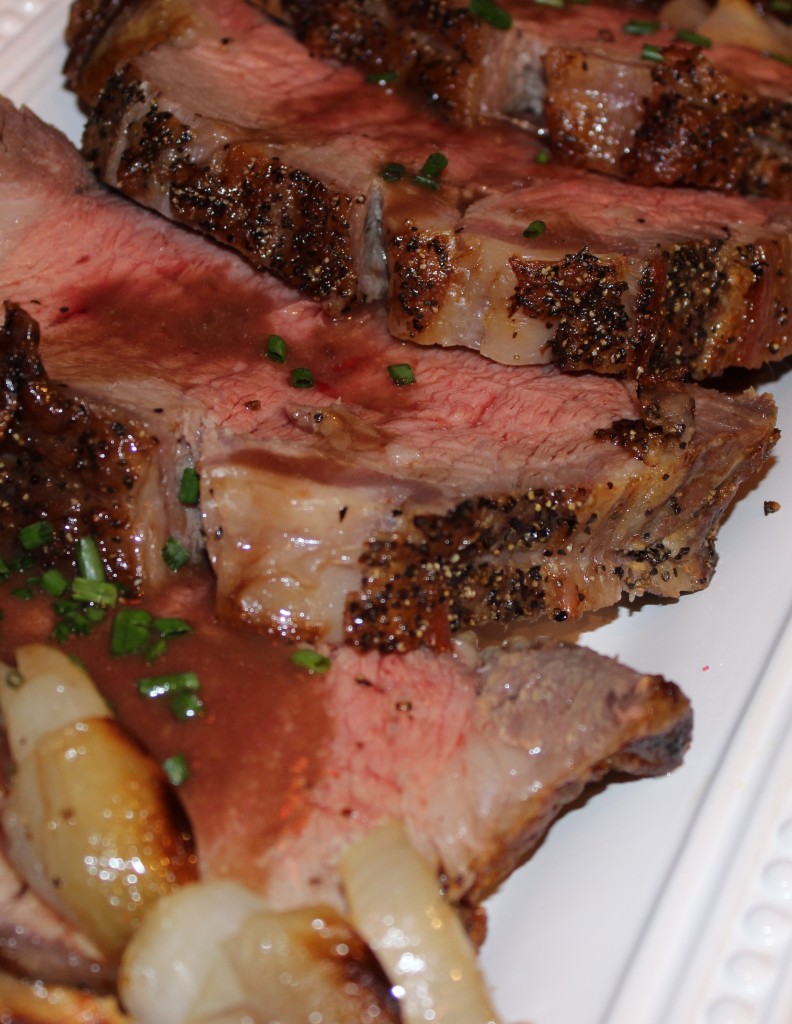 I love Roast Beef.  It reminds me of Sunday Family Dinner growing up and was always my favorite dinner.  The only thing that is different about my recipe is I like to serve mine with a red wine reduction sauce instead of the gravy my Mom made.  I am a sauce girl through and through.  I will make a recipe based on what the sauce sounds like and if there isn't a sauce, I will probably never even consider the recipe!
This sauce freezes great too, so if you have some left over, put it in a ziplock bag, label it and put it in your freezer and next time you grill a steak, you'll have a great sauce to cover it with!  Bon Appetit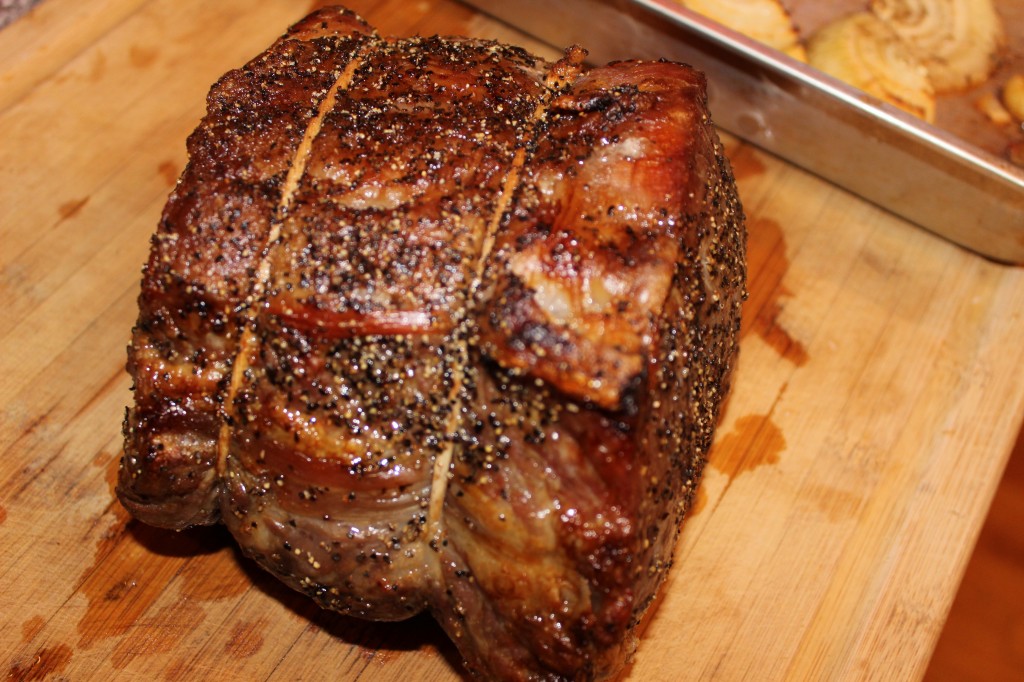 Roast Beef with Red Wine Reduction Sauce
Prep time:
Cook time:
Total time:
Ingredients
3-4 Pound Roast Beef (I like Delmonico)
3 Onions, Sliced thick
6 Garlic Cloves
2 Garlic Cloves, smashed
Salt & Pepper
1 Cup Red Wine
1 Can Beef Consomme
4 Mushrooms, quartered
1 Carrot, chopped
2 Shallots/Halved
2 Plum tomatoes, quartered
Salt & Pepper
¼ Cup flat leaf parsley
2 Tbsp Butter
1 Tbsp Flour
Instructions
One to Three days before: Dry the roast with a paper towel and coat all sides liberally with kosher salt. Place the roast in a pan, cover loosely with foil or cheesecloth and keep in the refrigerator for at least one and up to three days. This is going to make your roast taste amazing. Don't skip this step.
Preheat oven to 450.
Bring roast to room temperature. This is very important! It will take at least 60-90 minutes. If the roast is cold going into the oven, it won't cook evenly and it will take a lot longer to cook.
In a roasting pan, add the onions in a layer on the bottom to create a prop for the roast. Add the garlic cloves and salt and pepper the veggies.
Rub any excess salt off of the roast, coat with black pepper and place on top of the onions.
Add water to the bottom of the pan, about ½ inch.
Place roast in the oven for 15 minutes. Then turn the heat down to 325. Roast will take approximately 90 more minutes. You want to take it out when the temperature hits 120 (if you like it med/rare/rare or 125 if you like med/rare (it will get to 130/135 resting which is perfect for Medium Rare).
Meanwhile, add 1 Tbsp butter to a saucepan.
Add the shallots and garlic to the pan for 2 minutes. Salt & Pepper to Taste.
Now add the tomatoes, mushrooms and carrots and cook for 5 minutes.
Now add the beef consomme, red wine and parsley. Stir well, taste to see if it needs to be seasoned more and simmer for 1 hour.
Drain the veggies out and put the sauce aside.
Melt 1 Tbsp butter in a saucepan, when the butter is melted add the flour and stir quickly to create a roux. Be careful not to let it burn. When the roux has cooked for 3-5 minutes and is starting to turn color, slowly add the reserved sauce, stirring constantly. Within 5 minutes the sauce will thicken slightly. You are not looking for a thick gravy here, just a luscious sauce for your beef. I like to strain the pan juices from the roast and add them to the sauce (not necessary but it will take your sauce to the next level!)
Make sure to let the roast rest at least 15 (30 is better) minutes before carving. Cover with foil while it rests. If you are going to place it on a platter for serving, warm the platter in the oven to keep the roast warm. I like to serve the onions with my roast too.