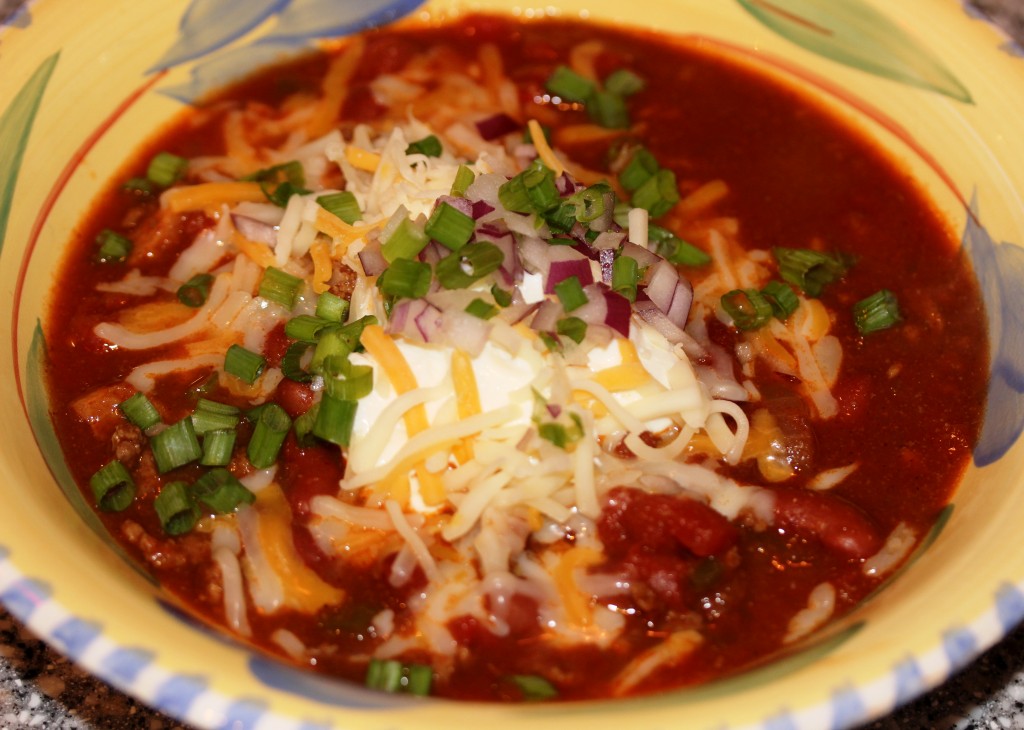 When the fall comes, I am always ready for a hearty bowl of chili or soup.  This is my favorite chili recipe.  I always make a double batch and freeze the leftovers in small individual serving containers.  Great for a healthy, satisfying homemade lunch!  If you like, you can start this on the stove and finish it in the crockpot.  Like all chilis, it's even better the next day.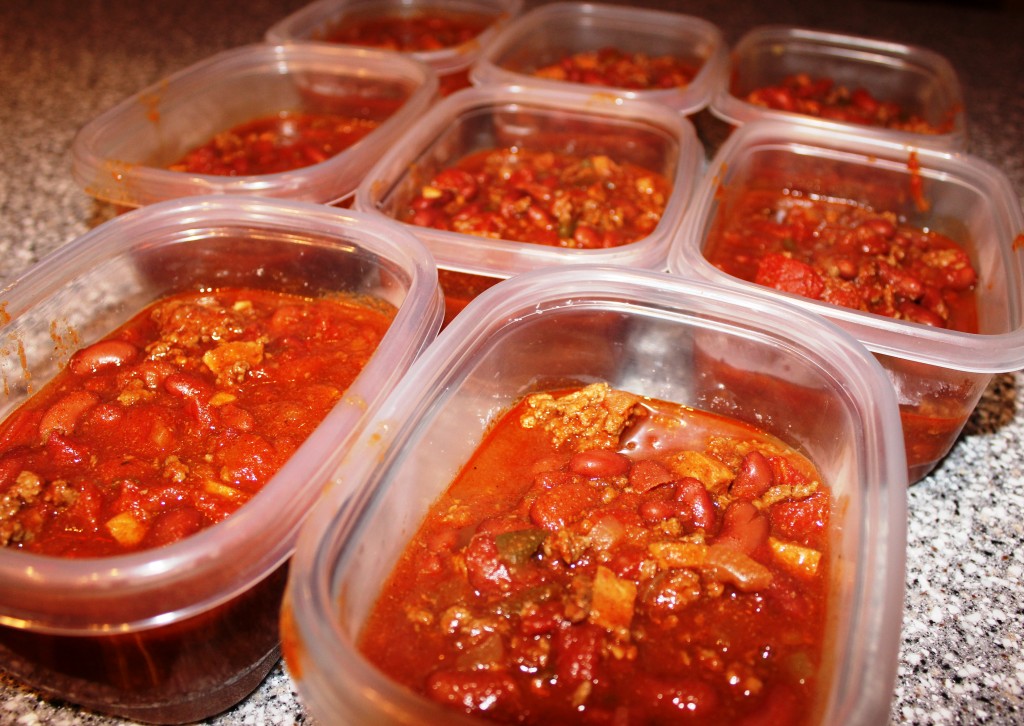 Chili
Author:
Adapted from Cooking Light
Prep time:
Cook time:
Total time:
Ingredients
6 oz Hot Italian or Buffalo Turkey or Chicken Sausage
1 Pound Lean Ground Beef
1 Tbsp Olive Oil
2 Cups Chopped Yellow Onion
1 Cup Chopped Green Pepper
2 Tbsp Chopped Garlic
1 Jalapeno Pepper, chopped (2 if you like it hot!)
2 Tbsp Chili Powder
2 Tbsp Brown Sugar
1½ Tbsp Ground Cumin
3 Tbsp Tomato Paste
1 tsp Dried Oregano
Salt & Pepper to Taste
2 Bay Leaves
1¼ cup Red Wine
(2) 28 oz. Can Chopped Tomatoes
(2) 15 oz. Cans Drained Red Kidney Beans
Sour cream, cheddar cheese, scallions/red onions for garnish.
Instructions
Heat a large dutch oven and add the olive oil, beef & sausage to the pan. Salt & Pepper to taste. Mix well and chop the beef up with a wooden spoon, until beef is browned and crumbled.
Remove meat from pan and rest in a bowl.
Add a touch more olive oil to pan if needed.
Add the onions, garlic, green pepper and jalapeno to the pan, stir well and season with salt & pepper. Cook for 5 minutes.
Add the chili powder, oregano and cumin, mix well.
Add the tomato paste and stir well for 2 minutes.
Add the meat mixture back to the pan, the wine, bay leaves, brown sugar, tomatoes and beans. Stir well and season to taste with salt and pepper. Bring to a boil, then cover and turn the heat on low.
Simmer for 1 hour with the lid on (checking frequently and stirring to make sure it doesn't stick.
Take the lid off and simmer for 30 more minutes.
Serve in bowls with your favorite fixings.
Note: After all ingredients are added, at step 8, you can finish cooking in a crock pot on low, 4-6 hours.
Note: Chili freezes well and lasts up to 3 months.