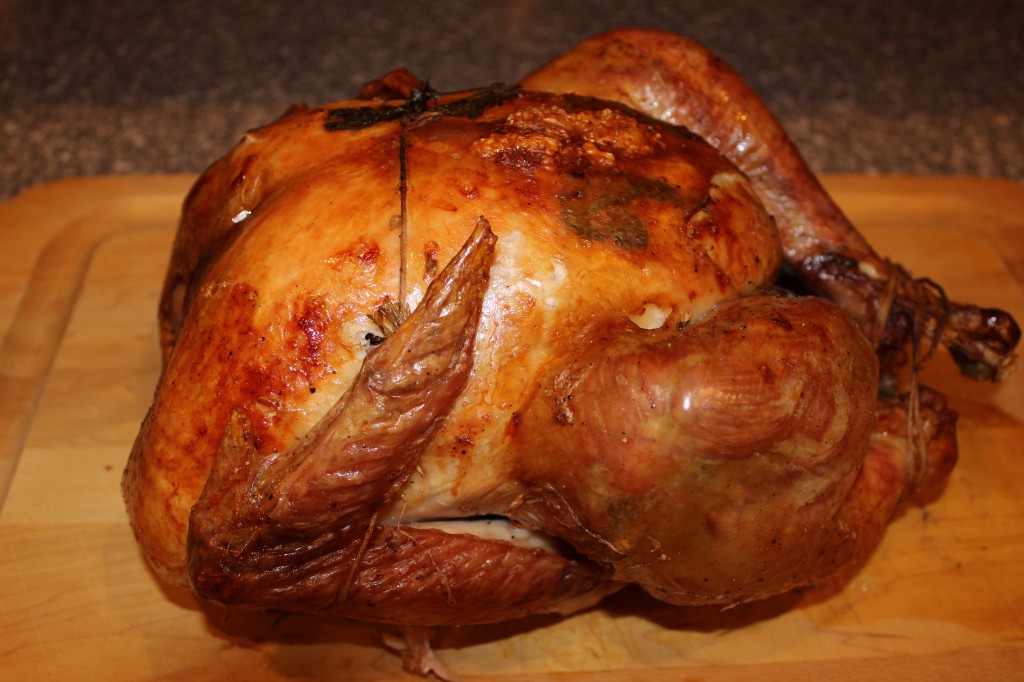 This is my favorite turkey recipe.  Make sure the pan always has a least 1 inch of liquid in it so it doesn't burn and you have great pan drippings for the gravy! 

Sage Turkey
Author:
Adapted from Gourmet
Prep time:
Cook time:
Total time:
Ingredients
14 pound turkey, save neck and giblets for stock
½ lemon
7 sage springs
½ granny smith apple
2 onions, cut in half
4 Tbsp melted unsalted butter
2 Cups chicken or giblet stock
Instructions
Preheat the oven to 325
Bring turkey to room temperature 45 minutes before cooking.
Wash turkey and pat dry. Season well with salt and pepper.
Add the apple, lemon, 3 sage leaves and ½ onion to the cavity.
Truss turkey and add to the rack of a large roasting pan. Add the remaining onions to the pan.
Rub the turkey with the remaining sage sprigs. You should be able to smell the sage. Rub the turkey with the melted butter. Add the stock to the bottom of the pan and cover the turkey loosely with foil.
Place the turkey in the oven. Baste the turkey once an hour. Make sure there is about an inch of liquid in the bottom of the pan at all times. Add stock if needed. The turkey will take between 4 and 5 hours depending on your oven. When the turkey reaches 140 degrees, remove the foil so the skin can brown.
When the thigh reaches 180, remove turkey from the oven and place on a cutting board covered with foil to rest. Save the pan juices to make gravy.