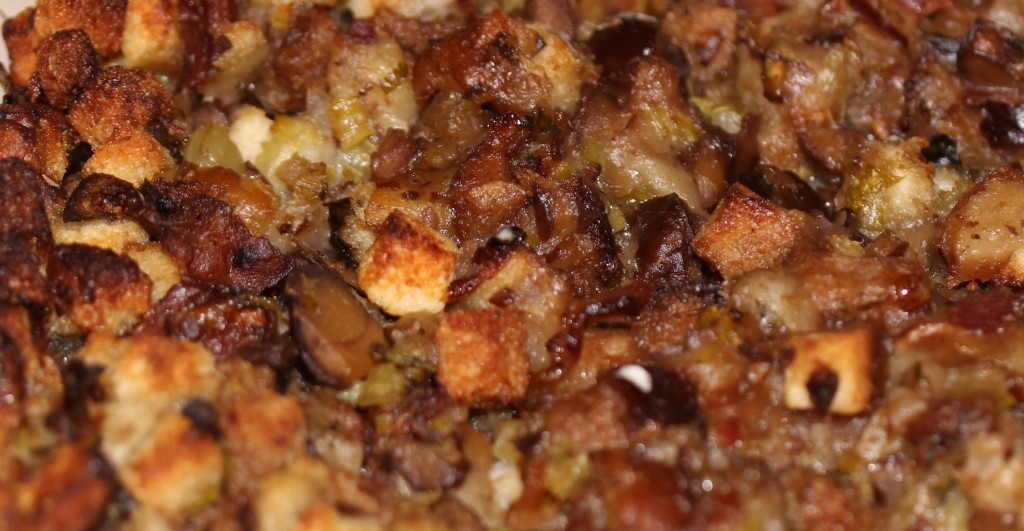 I have tried a lot of different dressing/stuffing recipes but I always come back to this one.  The combination of the salty smoky bacon with the nutty chestnuts is so good. 

Chestnut Bacon Dressing
Author:
Adapted from Gourmet
Prep time:
Cook time:
Total time:
Ingredients
(1) 12 oz. Bag Pepperidge Farm unseasoned cubed stuffing
10 bacon slices
4 Tbsp unsalted butter
2 medium onions, chopped
4 celery stalks, chopped (include the leaves too, they add a lot of flavor!)
1 Tbsp fresh rosemary, chopped fine
¾ pound vacuum packed whole chestnuts, chopped course
½ cup finely chopped flat leaf parsley
2 cups chicken broth
Instructions
Preheat oven to 325 and butter a 4 quart baking dish.
In a large skillet, saute the bacon until crispy. Save the bacon fat to cook the veggies. Chop the bacon.
Add the onions, celery, butter and rosemary to the bacon fat. Salt and pepper. Cook for about 10-15 minutes until the veggies become translucent.
In a large bowl, add the stuffing, parsley, bacon, chestnuts and mix well. Once the veggies are done cooking, add them to the bowl, mix well and season with salt & pepper.
Add the stuffing mixture to the prepared baking dish. (Can be made ahead 1 day up to this point. If making ahead, cool stuffing, cover with foil and refridgerate. Make sure to bring to room temperature before baking).
Drizzle dressing with stock, cover with foil and bake for one hour. Uncover and bake for 30 minutes more. Rest for 5-10 minutes before serving.