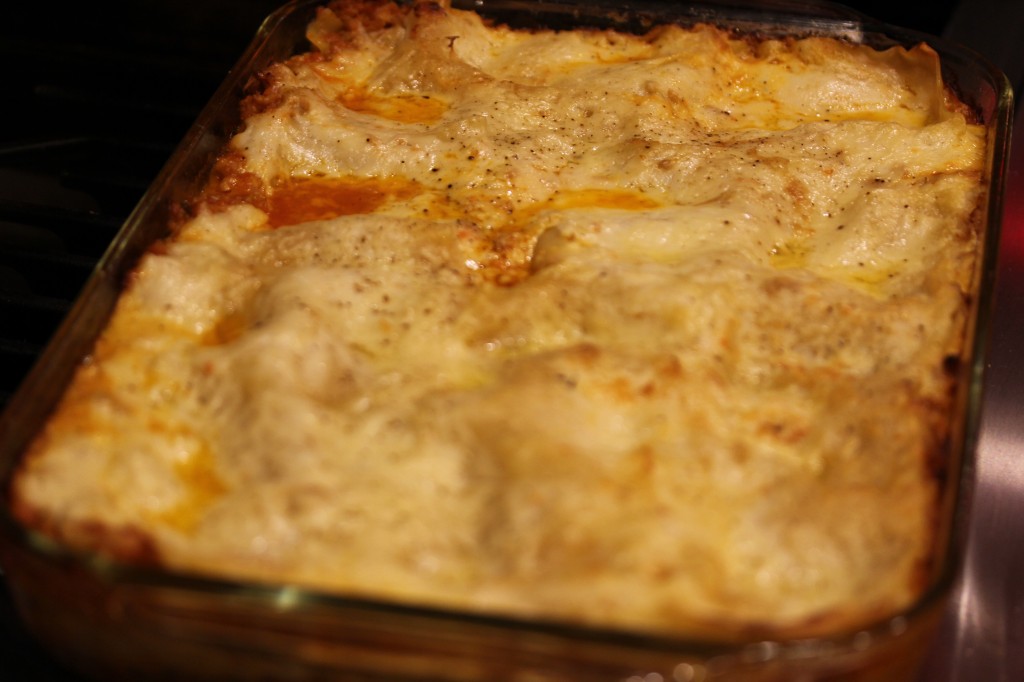 This is the best lasagne recipe I have ever had.  It's from one of my favorite cookbooks, Molto Italiano by my cooking idol, Mario Batali.  I <3 Mario!!!!  The Bolognese is amazing.  I always make a double batch of the Bolognese, serve it with Papperdelle noodles and then freeze the rest for Lasagne.  Must have a great glass of Chianti with it!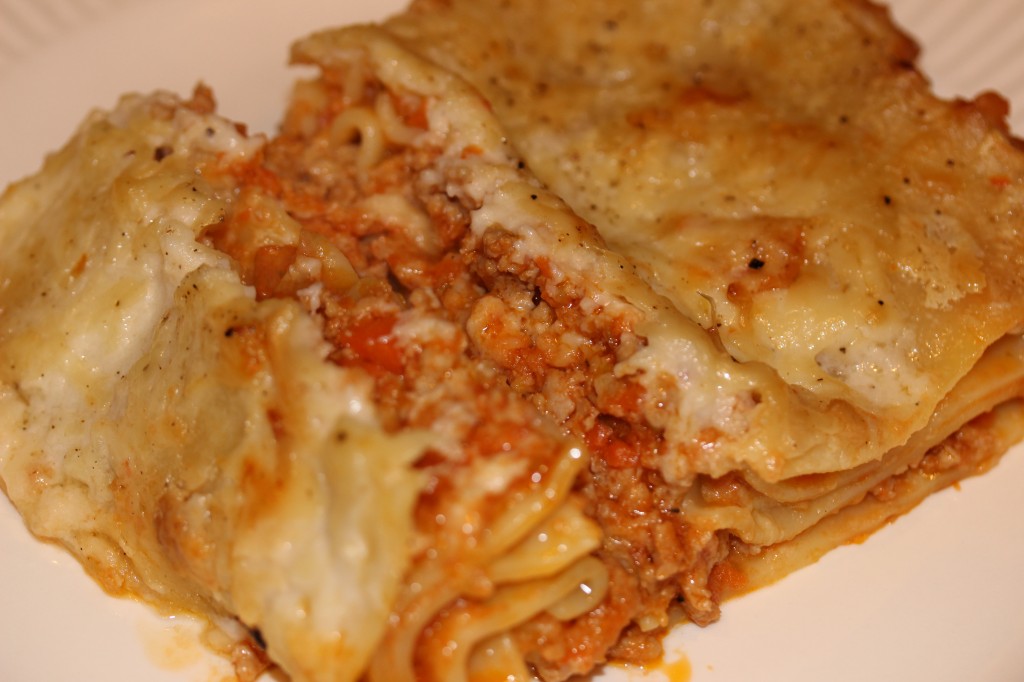 Lasagne Bolognese
Prep time:
Cook time:
Total time:
Ingredients
¼ Cup Extra Virgin Olive Oil
2 Medium Onions, finely chopped
4 Ribs celery, finely chopped
2 carrots, finely chopped
5 cloves of garlic, finely chopped
1 pound ground veal
1 pound ground pork
4 oz pancetta, chopped super fine (I put in the food processor)
6 oz can tomato paste
1 cup whole milk
1 cup dry white wine
1 tsp fresh thyme leaves
salt and pepper
5 Tbsp unsalted butter
¼ cup flour
3 cups whole milk
2 tsp salt
½ tsp freshly grated nutmeg
1½ cup grated parmesan
1 pound lasagna noodles
Instructions
In a 6-8 quart heavy bottomed pot, heat the olive oil until hot.
Add the onions, celery, carrots and garlic and cook until the vegetables are translucent but not browned, about 5 minutes.
Add the veal, pork and pancetta, increase the heat to high, and brown the meat, stirring frequently.
Season to taste with salt and pepper.
Add the tomato paste, milk, wine and thyme and bring just to a boil, lower the heat and simmer for 1 to 1½ hours.
Season to taste with salt and pepper.
Partially cook the lasagna noodles.
Meanwhile, make the besciamella
In a medium saucepan, melt the butter, add the flour and whisk the roux until light brown, about 6 minutes.
Add the milk, one cup at a time, whisking frequently.
Cook the besciamella until it coats the spoon, 8-10 minutes.
Add the salt, pepper & nutmeg.
Add ¾ cup of the parmesan.
Assemble the Lasagne:
Heat the oven to 375.
Oil a 10X20 lasagne pan.
Layer the bottom of the pan with the ragu.
Add a layer of noodles.
Add a layer of besciamella.
Add a layer of ragu.
Add a sprinkling of parmesan.
Continue to build the layers, ending with besciamella and parmesan on the top.
Place tin foil on top of the lasagne and cook in the oven until bubbly, about 45 minutes. Take the foil off the top and cook for 10-15 more minutes until the top lightly browns.
Rest for 15 minutes.