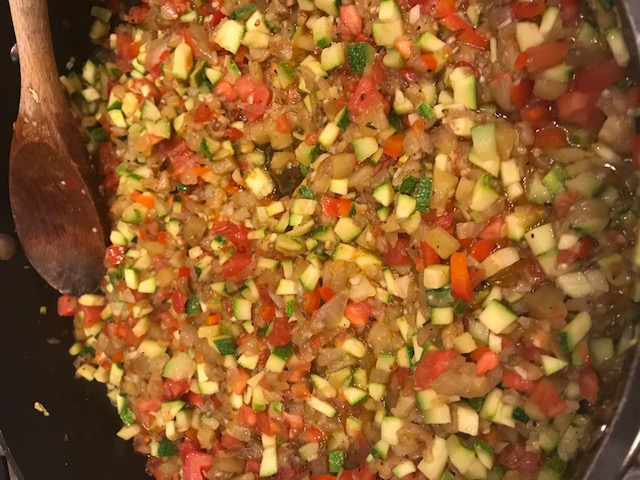 We just got back from an amazing vacation in the South of France and out of all the dinners and lunches we had, the Ratatouille that I had was my stand out favorite.  The restaurant that served it had chopped all the veggies very small and uniform in size, much smaller than what you would typically see.  This really allowed the flavors to blend together.
When I got home I looked up a few recipes on line, there are so many.  A lot have you cook each veggie on it's own and then add them at the end, that sounded like a lot of extra work and dishes to me.  I just cooked the veggies in order so they would all be done at the same time.  The fresh basil at the end is great.  Add any other fresh herbs you have on hand.
Serve hot or at room temperature. This makes a really big batch.  You will have leftovers for lunch the next day.  Which is what I had today, and it was even better the next day!

Ratatouille
Prep time:
Cook time:
Total time:
Ingredients
Olive Oil
Large Vidalia onion, diced small
2 Tbsp finely chopped garlic
1 Tbsp herbes de provence
Large eggplant, peeled, diced small
4 Small zucchini, seeds removed, diced small
1 Red pepper, diced small
2 Cups finely chopped tomato
½ cup chopped basil
Instructions
In a hot large non stick pan add 2 Tbsp olive oil.
Add the onions and cook at high heat for 5 minutes until they are starting to carmelize.
Add the garlic & herbs de provence and cook for 1 minute. Season with salt and pepper.
Add 1 Tbsp more olive oil. Add the eggplant and cook for 8 minutes until it is soft and starting to carmelize.
Add the zucchini and red pepper. Season with salt and pepper and cook for 5 minutes.
Add the tomatoes, taste for seasoning (you will likely need to add more) and cook for 5 minutes. Add a little more olive oil if it's starting to stick.
Add the basil, cook for 1-2 minutes until it is wilted.